Cloud Print Management Made Easy
Sign Up For Your
Free Trial Account
UniPrint InfinityCloud is a SaaS based print management tool that removes the need for costly print servers, allows for centralized management of direct IP printing, and improves your overall printing experience.
Why UniPrint InfinityCloud?
Print anywhere, anytime
Print directly to IP printers
Reduce help desk calls
Improve user workflow
Save on print server costs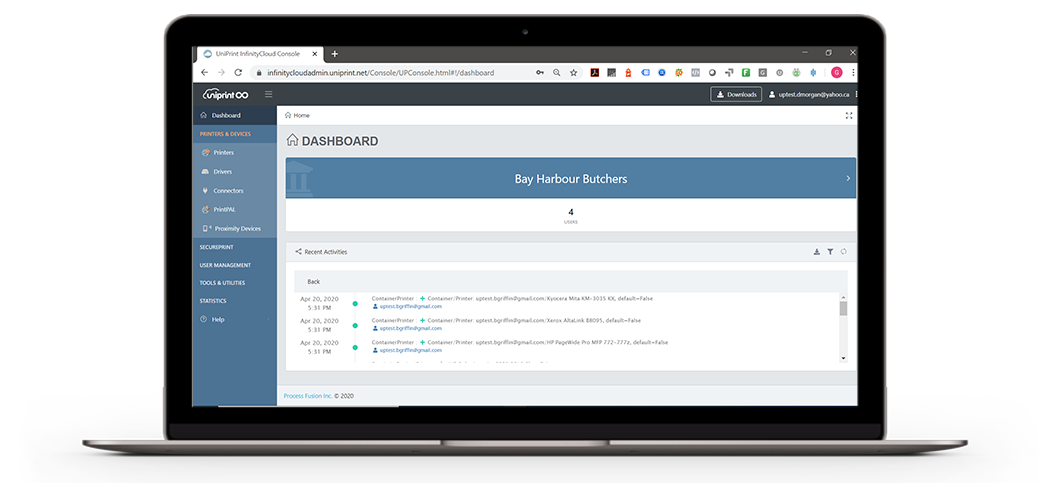 Frequently Asked Questions
Who is eligible for the free trial?
The free trial is a one-time introduction to the UniPrint InfinityCloud Platform for new customers. If you have never been a paying customer of our platform and have not previously signed up for the free trial, you are eligible.
Do I pay anything for the free trial?
No, the trial is free and you will not be billed or invoiced. When your trial ends, your account will be paused and you will have the option to upgrade to a paid account.
What is included in the free trial?
You get $100 in credit to spend over a 30-day period on the UniPrint InfinityCloud Platform. There are no limitations in the use to the product.
What are the Terms of Service for the free trial?
The UniPrint InfinityCloud free trial requires that you accept our terms & conditions
How long is the free trial for?
The UniPrint InfinityCloud Service trial lasts for a period of 30-days. Once this period is complete, your trial account will expire. You may choose to purchase a subscription at anytime.
How easy is it to migrate to UniPrint InfinityCloud?
UniPrint InfinityCloud provides tools you can use to migrate files, data, and databases to our Cloud Platform. For more information visit our help center.
What do I need to provide to start a free trial?
To start a free UniPrint InfinityCloud Service trial just provide the information requested above. No credit card is required.
What if I still have questions?
Give us a call at +1 416-503-9800 and we will be happy to answer any questions for you.
Can I extend my free trial?
Yes, you can extend your 30-day free trial by special request. Send en email to request a free trial extension to our sales team at [email protected]
Cloud Print Management Made Easy
Sign Up For Your
Free Trial Account