Infographie – Suite d'impression de soins de santé
By UniPrint.net on mai 11, 2017
Malgré tous les progrès de la technologie de numérisation et d'imagerie, l'impression continue d'être une fonction essentielle pour l'industrie de la santé.
UniPrint Infinity's ™ Healthcare Printing Suite (HPS) permet une impression sécurisée rapide, sans erreur et à la demande à partir d'applications EHS / EMR majeures, avec un temps de disponibilité de 100%.
Le déploiement de l'université UniPrint Infinity HPS, les hôpitaux et les organismes de santé bénéficient de flux de travail cliniques optimisés, de coûts d'impression réduits et d'amélioration de la qualité des soins aux patients tout en éliminant les violations de données lors de l'impression.
Cette infographie illustre comment les organisations de soins de santé peuvent bénéficier de UniPrint Infinity's ™ Healthcare Printing Suite.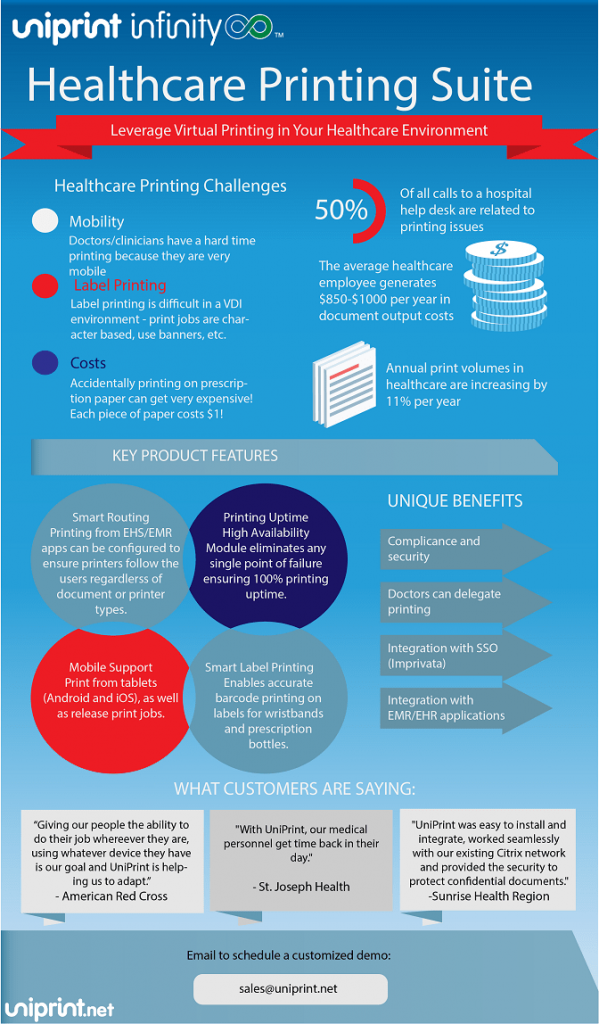 Try UniPrint InfinityCloud
Whether you are printing at the office or at home, UniPrint InfinityCloud is the cloud printing solution of choice for your organization.