HIMSS 2019 – Transformation digitale par entrée et sortie numérique
By UniPrint Team on février 11, 2019
UniPrint.net et Process Fusion sont ravis de participer à HIMSS 2019 cette semaine!
La solution Healthcare Printing Suite exclusive d'UniPrint Infinity permet une gestion simplifiée des imprimantes pour les fournisseurs d'informatique de santé, ainsi qu'une sécurité renforcée des documents grâce au cryptage et à l'impression sécurisée. La plate-forme de capture et de flux de travaux CP-1 de Process Fusion facilite la livraison sécurisée de documents de référence entrants, physiques ou numériques, des médecins au flux de travaux de planification approprié dans un format numérique unifié. Les deux solutions visent à donner du temps aux cabinets de médecins, aux hôpitaux et surtout aux patients.
Au cours des années HIMSS, nous sommes ravis de présenter notre nouvelle solution combinée, qui associe ces deux solutions puissantes à de nouvelles fonctionnalités intéressantes.
Alors que les plates-formes UniPrint et CP-1 prennent en charge les entrées et les sorties physiques et numériques, l'objectif ultime pour de nombreux établissements de soins de santé est d'être 100% numérique et, du même coup, d'éliminer le besoin de papier et de télécopie. HIMSS 2019 dévoilera deux nouvelles fonctionnalités CP-1: la fonctionnalité SecureSend, optimisée par la technologie de pilote d'impression universel d'UniPrint Infinity, et l'assistant de planification, l'assistant de réservation 24 heures sur 24, 7 jours sur 7, fourni par Simplifimed.
[Cliquez ici pour voir notre communiqué de presse complet sur l'aperçu HIMSS 2019]
Vous voulez voir ces solutions à l'œuvre? Visitez UniPrint et Process Fusion au salon HIMSS 2019 Solutions Expo du 12 au 14 février. Ils exposeront dans deux endroits: le pavillon de l'Ontario (stand n ° 1721) et avec Citrix Ready (stand n ° 527).
CONTENU DE BONUS
Découvrez cette infographique fantastique de Citrix Ready, décrivant la manière dont UniPrint et Citrix travaillent ensemble pour optimiser les flux de travail du secteur de la santé.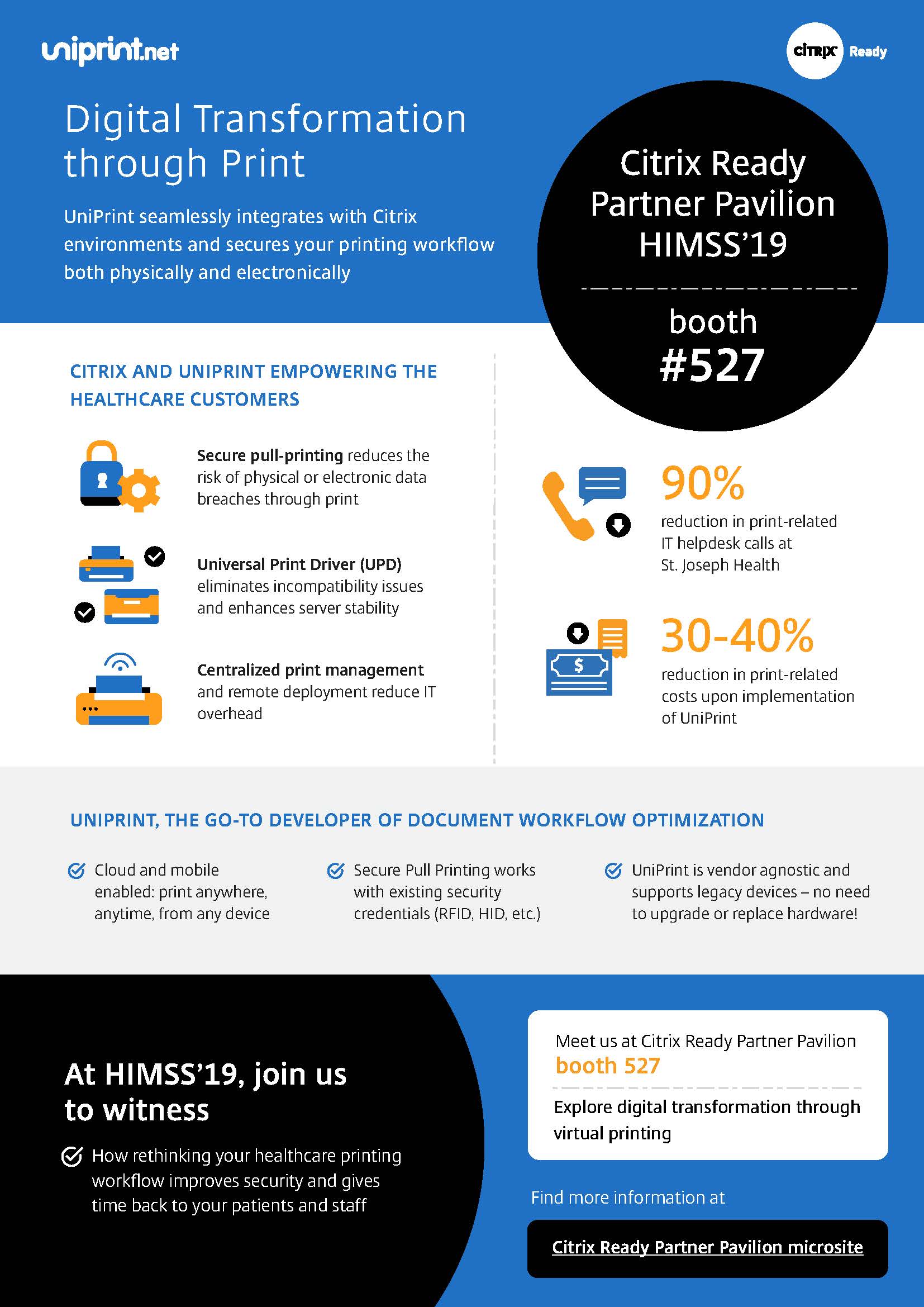 Try UniPrint InfinityCloud
Whether you are printing at the office or at home, UniPrint InfinityCloud is the cloud printing solution of choice for your organization.