HIMSS 2019 – Digital Transformation Through Digital Input and Output
By UniPrint Team on February 11, 2019
UniPrint.net and Process Fusion are excited to participate in HIMSS 2019 this week!
UniPrint Infinity's exclusive Healthcare Printing Suite solution allows for simplified printer management for Healthcare IT providers, as well as enhanced document security through encryption and secure pull printing.   Process Fusion's CP-1 document capture and workflow platform facilitates the secure delivery of inbound referral document, physical or digital from physicians to the appropriate scheduling workflow in a unified digital format. Both solutions aim to give time back to the physician offices, the hospitals and especially patients.
At this years HIMSS, we are excited to showcase our new combined solution, which brings together these two powerful solutions alongside exciting new features.
While the UniPrint and CP-1 platforms support both physical and digital input and output, the ultimate goal for many healthcare organizations is to be 100% digital, and in the process eliminate the need for paper and fax. Two new CP-1 features will be unveiled at HIMSS 2019: The SecureSend feature powered by UniPrint Infinity's Universal Print Driver technology, and Scheduling Assist – the 24/7 Advanced Booking Assistant powered by Simplifimed.
[Click here to view our full HIMSS 2019 Preview Press Release]
Want to see these solutions at work? Visit UniPrint and Process Fusion at the HIMSS 2019 Solutions Expo February 12 – 14. They are exhibiting in 2 locations – The Ontario Pavilion (booth #1721) and with Citrix Ready (booth #527).
BONUS CONTENT
Check out this fantastic infographic from Citrix Ready, outlining how UniPrint and Citrix work together to optimize healthcare workflows.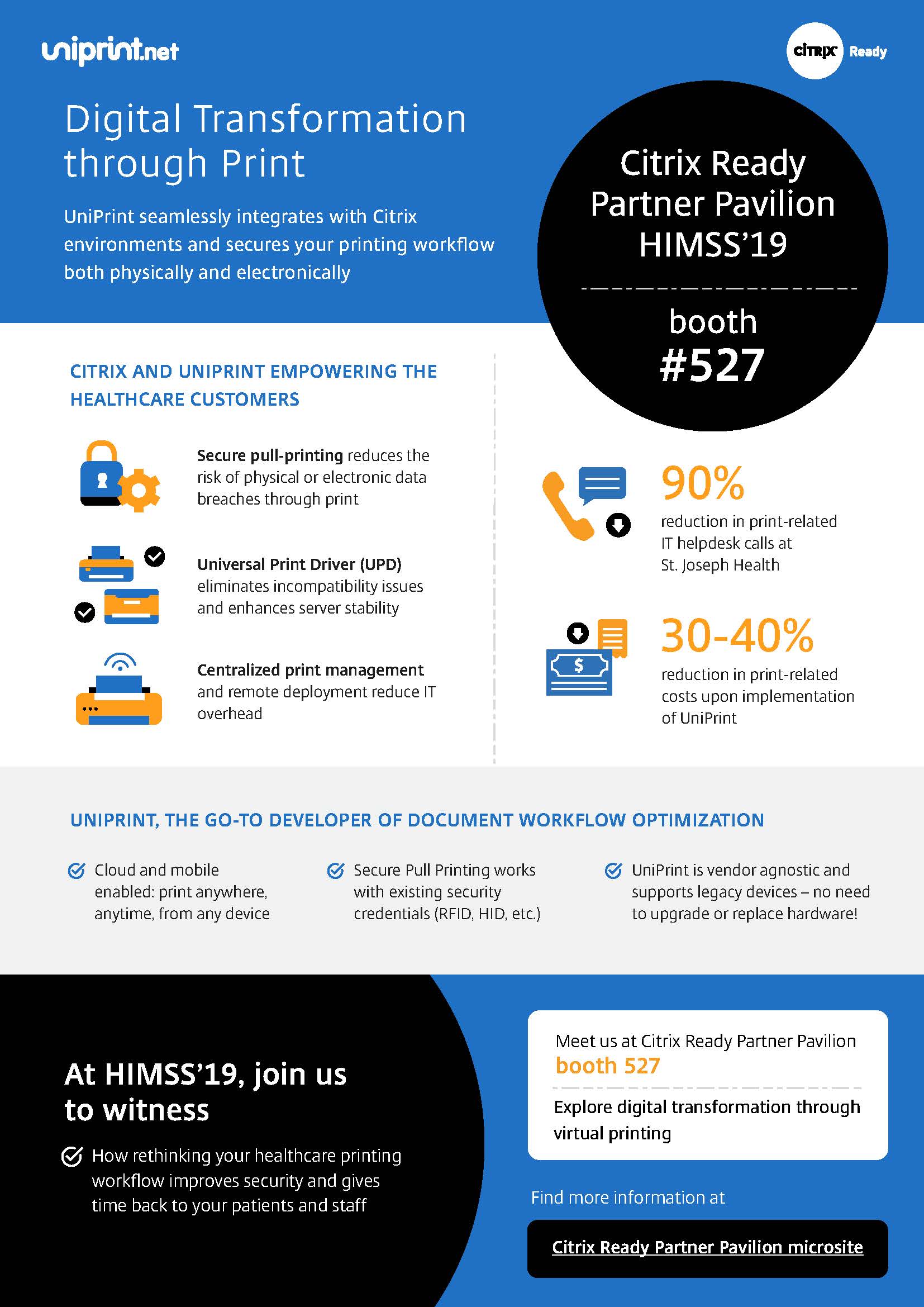 Try UniPrint InfinityCloud
Whether you are printing at the office or at home, UniPrint InfinityCloud is the cloud printing solution of choice for your organization.