Key Benefits For Healthcare
Error-free Printing – improved workflow
Fast Printing from EMR/EHS Apps
Secure On-demand Printing
Accurate Label Printing
100% Printing Uptime
Multi-vendor Support (Certified by Citrix, Microsoft and VMware)
Reduced Printing Support Calls by up to 75%
Low Upfront Investment & Guaranteed ROI
How it works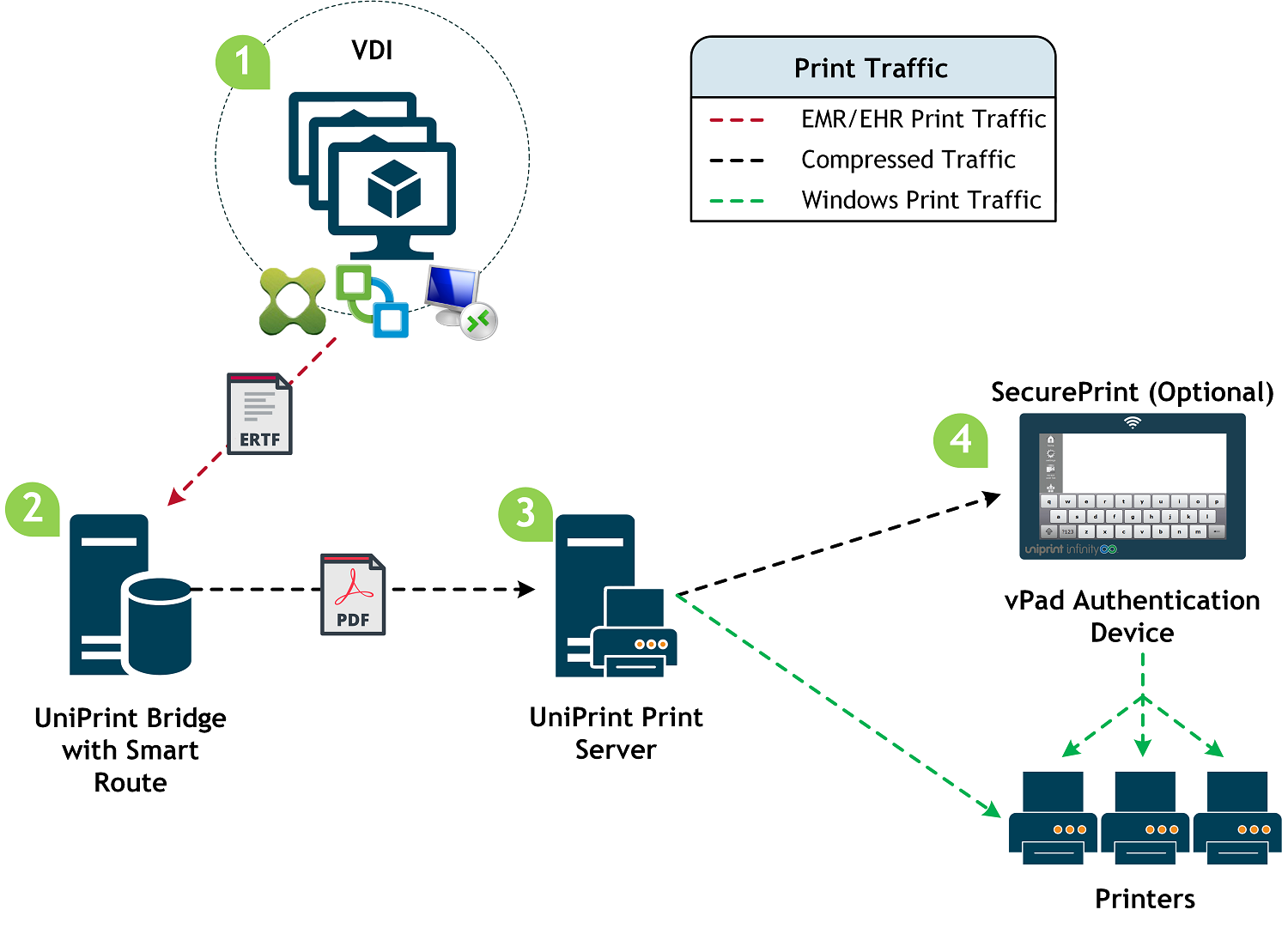 1
A user connects to their EMR application and prints. The EMR application creates a proprietary print job to the UniPrint Bridge.
2
The UniPrint Bridge creates a compressed PDF print job and transfers it to the UniPrint Print Server.
3
Using native printer drivers, the UniPrint Print Server renders the PDF print job into compressed print data. If SecurePrint is not utilized the print data is sent to the closest network printer for printing.
4
If SecurePrint is utilized, the user is required to authenticate before the print job is released to a network printer.
Hospital Printing For EMR & EHR Applications
While VDI technology, which is increasingly adopted by hospitals, allows fast and secure access to EHS/EMR applications for the roaming hospital users, location-based printing is still problematic.
UniPrint Infinity's Smart Route Printing Module ensures printing from EMR / EHR applications (Epic, Meditech, McKesson, Allscripts etc.) can now be easily configured to ensure printers follow the users regardless of document or printer types (e.g. patient record printer; prescription, label or other specialty printers).
In addition to this, UniPrint's Virtual Print Queue (VPQ) ensures users are no longer required to decide which printer to use while using the EMR / EHR apps.
EPIC & Meditech Printing
The larger the hospital or healthcare organization, the harder it becomes to deliver fast and reliable printing output such as physician orders, prescription labels, patient wristbands, and other important documents.
Epic & Meditech boasts some of the most widely used EMR software solutions for hospital and healthcare organizations.
One of the biggest problems with Epic printing is the number of print servers required and the management of those print servers. While Meditech printing's biggest challenge is not being able to properly route print jobs to a doctor's location in the hospital.
UniPrint Infinity HPS provides a platform independent point of control, which eliminates the need to define and maintain complicated Windows print servers, print queues and printer drivers. It also ensures that printers follow the user regardless of document or printer types.
UniPrint Infinity HPS is approved by and available on Epic's App Orchard Marketplace.
White Paper: How to Optimize EPIC Printing in a VDI Environment
Error Free Printing
Traditionally, healthcare workers would log in and out numerous times  on different machines throughout the day, but now with the adoption of VDI environments, they only need to log in once.
Printing problems begin to arise when users need to be able to find the appropriate printer that might only be mapped to a single location, causing a lot of wasted time traveling back and forth to locations.
Healthcare workers are constantly on the move and need to be able to print to the nearest printer, while IT system admin need to be able to easily manage the backend system from a single console.
UniPrint Infinity's HPS enables printers to quickly follow users around locations, and easily select and print the required document to the nearest or selected printer regardless of location, IP address, user ID, workstation ID, and proximity of signal. It also allows system administrators to remotely control and shut down, disable, and assign printers on the fly.
Maximized Printing Uptime
UniPrint Infinity's High Availability Module eliminates any single point of failure in the healthcare printing infrastructure ensuring 100% printing uptime. With load balancing, printing remains fast and efficient, guaranteeing an uninterrupted workflow process for healthcare givers.
Secure Pull Printing
In the healthcare industry, safe harbor compliance and securing patient data confidentiality is paramount. UniPrint Infinity's vPad Devices ensure print output can be collected only by the right healthcare user, on demand.
Our vPads provide one-to-multiple printer support and works with printers of any make or model. The devices allow multi-factor authentication and since it is compatible with any RFID/HID smart card or key fob, including Imprivata single sign-on, no customization is required.
Not only does our vPad SecurePrint ensure hospitals comply with industry regulations, but it also provides print cost savings by minimizing print wastage.
Proven Time And Cost Savings
Instead of users wasting time on paper chasing or flooding IT help desk with printer support calls, care givers can now devote more time in providing quality patient care, and IT support can focus their time and attention on mission-critical tasks. In deploying UniPrint Infinity HPS, healthcare organizations do not need to spend extra capital to standardize their printer fleet, as HPS is print vendor-agnostic, or assign dedicated IT admin to support their printing infrastructure.
User Story: Healthcare Director of IT Celebrates $100,000 ROI in 18 months
Webinar: Creating a Software Defined Healthcare Printing Solution
The End Result: Deploying the UniPrint Infinity HPS, hospitals and health organizations benefit from optimized clinical workflows, reduced printing costs, and improved quality of patient care while eliminating data breaches when printing.