Simplifying VMware printing in VDI Environments
In VMware printing, Virtual Desktop Infrastructure (VDI) allows organizations to centralize control over desktop deployment and minimize administration costs, while allowing users full access to their desktop applications. Managing printer drivers in VMware with a remote workforce is a challenging task for any IT department.
UniPrint Infinity extends the benefits of VMware to printing, IT administrators need only to install one printer driver on the "master virtual desktop image," regardless of the printer make or model, at home or at remote sites.
Webinar: 5 Proven Strategies for Optimizing and Securing Your VMware Print Environment
Get UniPrint Infinity
Eliminating Your VMware Printing Challenges
UniPrint Infinity™ is a truly secure enterprise-wide printer management solution for any computing environment. UniPrint Infinity simplifies printer management and enables anywhere, anytime, any device, secure follow the user printing across different platforms, offices and geographies, helping to create enterprise-wide efficiency and reduce VMware printing costs.
PDF Download: UniPrint Infinity for VMware Horizon
Key Benefits
Supports thin and thick, local and remote clients connecting to VMware
environments
Supports VMware printing over PCoIP or Blast Extreme on VMware Horizon®
Solves all printer driver incompatibility issues and enhances server stability
Converts print data to PDF files, saving over 90% bandwidth consumption
Allows centralized management across the network
Enables location-based clientless printing to networked printers
Provides end-to-end print data encryption
How it works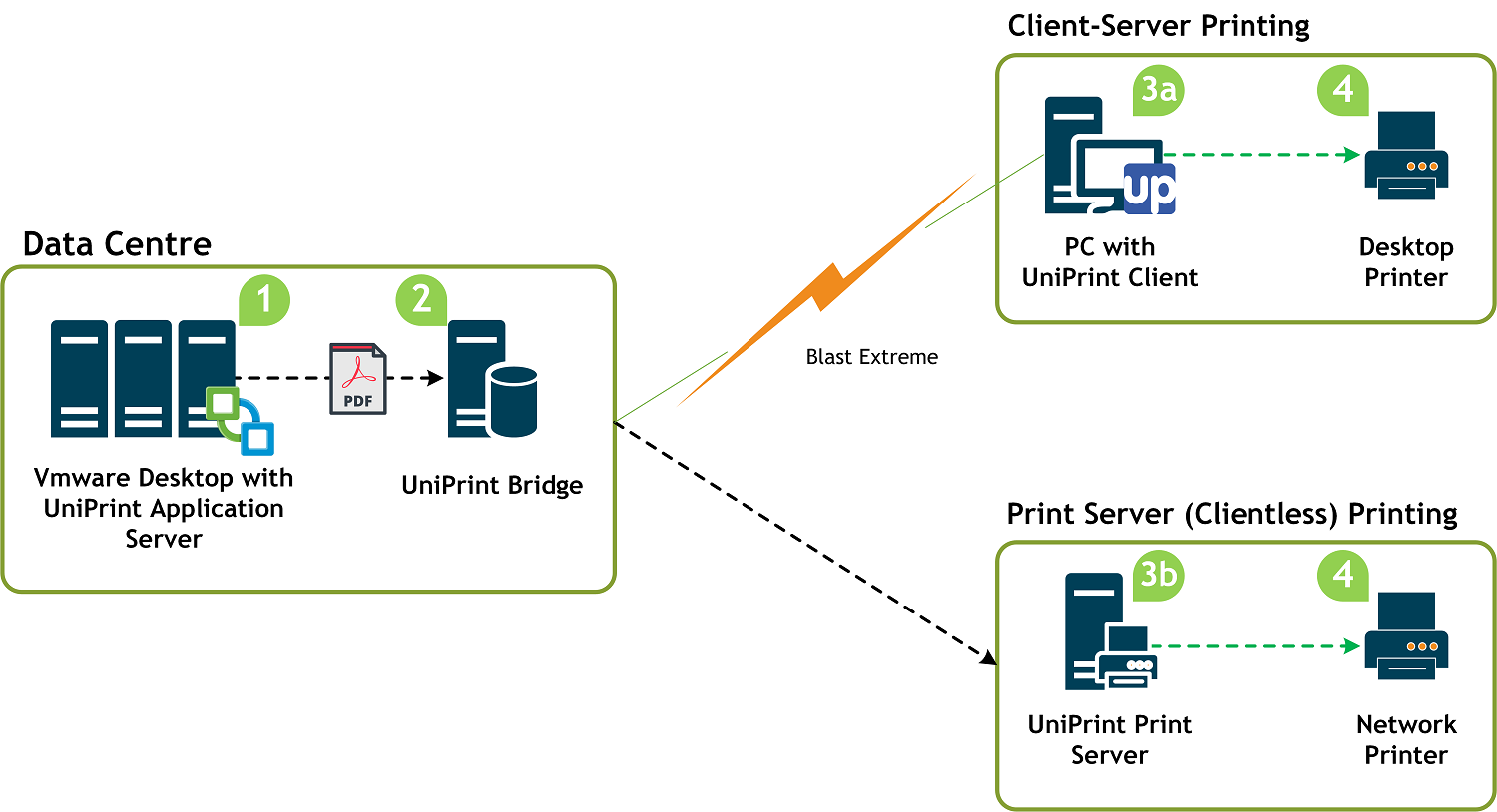 1
The user starts a VDI session by logging into VMware Horizon View. From an open application, the user prints to either an enumerated network printer (Gateway printer) or the UniPrint printer. Using the UniPrint universal printer driver (UPD), a compressed PDF file is created and then transferred to the UniPrint Bridge.
2
The UniPrint Bridge acts as a router and routes the PDF print job accordingly, based on the type of printer chosen: If the UniPrint printer is selected, the print job will be routed to the user's PC or if a Gateway printer is selected, the print job is directed to the UniPrint Print Server.
3
The PDF print job is then rendered into RAW print data.
3a
On a PC, the UniPrint Client renders the PDF print job using one of the native drivers installed on the PC. NOTE: For client-server printing, a print server is not required.
3b
On the UniPrint Print Server, the PDF print job is rendered using one of the native drivers installed on the print server.
4
The RAW print data is then sent to the appropriate printer for printing.
How it Works
UniPrint Infinity can be installed in many types of IT architectures such as Client/Server, Print Server-based, VMware, Microsoft Azure, Microsoft failover cluster and High Availability printing architectures.
Also, along with universal print driver functionality, UniPrint Infinity can also be set up for secure pull printing, mobile printing for iOS, Android and Chrome OS, print job statistics monitoring, automated print job archiving, compressed branch office printing and Smart Route printing.
In the Print Server-based architecture, workstation and/or thin-client users print through their virtual desktop sessions to network printers. The following three components are required to be installed on two servers and on the master virtual desktop images: UniPrint Bridge with the License Server, UniPrint Print Server and UniPrint Application Server.
UniPrint Client is optional and is only required for those printing to client attached desktop printers.
Now Available: VMware Solution Exchange Marketplace
Webinar: Why UniPrint? 3 Reasons Why VMware Users Need UniPrint Infinity
Why UniPrint Infinity?
UniPrint Infinity printing virtualization solution offers one PDF-based, vendor agnostic Universal Printer Driver (UPD) and one Virtual Print Queue (VPQ) built on one central management platform that can be easily installed and cleanly integrated into any VDI or Cloud printing infrastructure.
UniPrint VMware printing preserves the user experience while simplifying printer and especially printer driver management in VMware Horizon VDI environments.
Unique Features
Software-based printing solution
PDF-based Universal Printer Driver platform
Secure Virtual Print Queue technology
Centralized management console
PDF conversion/compression; also for instant archiving, emailing and merging multiple PDF file before printing
Gateway Module for client-less printing
PrintPAL for centralized printer mapping
Printer Profiles for centralized printer profile customization
Secure Pull Printing and End-to-end 256-bit encryption
Statistics & Archiving-Auditing