UniPrint Infinity One Management Platform
Optimize your workflow with UniPrint Infinity v10 to experience fast and reliable printing across all types of computing platforms through a single PDF-based UPD and management platform. Whether deploying in the Cloud, VDI, server-based, mobile, serverless, or traditional environments, our single management platform offered by UniPrint Infinity is the solution for all of your enterprise's printing challenges!
Webinar: 5 Proven Strategies for Optimizing and Securing Your Print Environment
Get UniPrint Infinity
UniPrint Infinity is the ONE print management solution for your organization
With One PDF based Universal Printer Driver, One Centralized Web-based Management Console, and One Virtual Print Queue, the versatile UniPrint Infinity solution functions in any computing environment and is completely printer-vendor agnostic!

Save 20% to 40% on print costs
Achieve optimal workflow efficiency through fast and reliable printing across all computing platforms
Significantly reduce print related help desk calls by up to 75%
Secure on-demand printing from anywhere, any device
Achieve printer-vendor independency for your enterprise environment
UniPrint Infinity Software
UniPrint Infinity can be deployed and used for printing through remote user sessions, whether using Citrix, Remote Desktop Services (RDS), VMware Horizon View, or Cloud computing environments. UniPrint also supports traditional desktop and laptop environments, as well as mobile printing.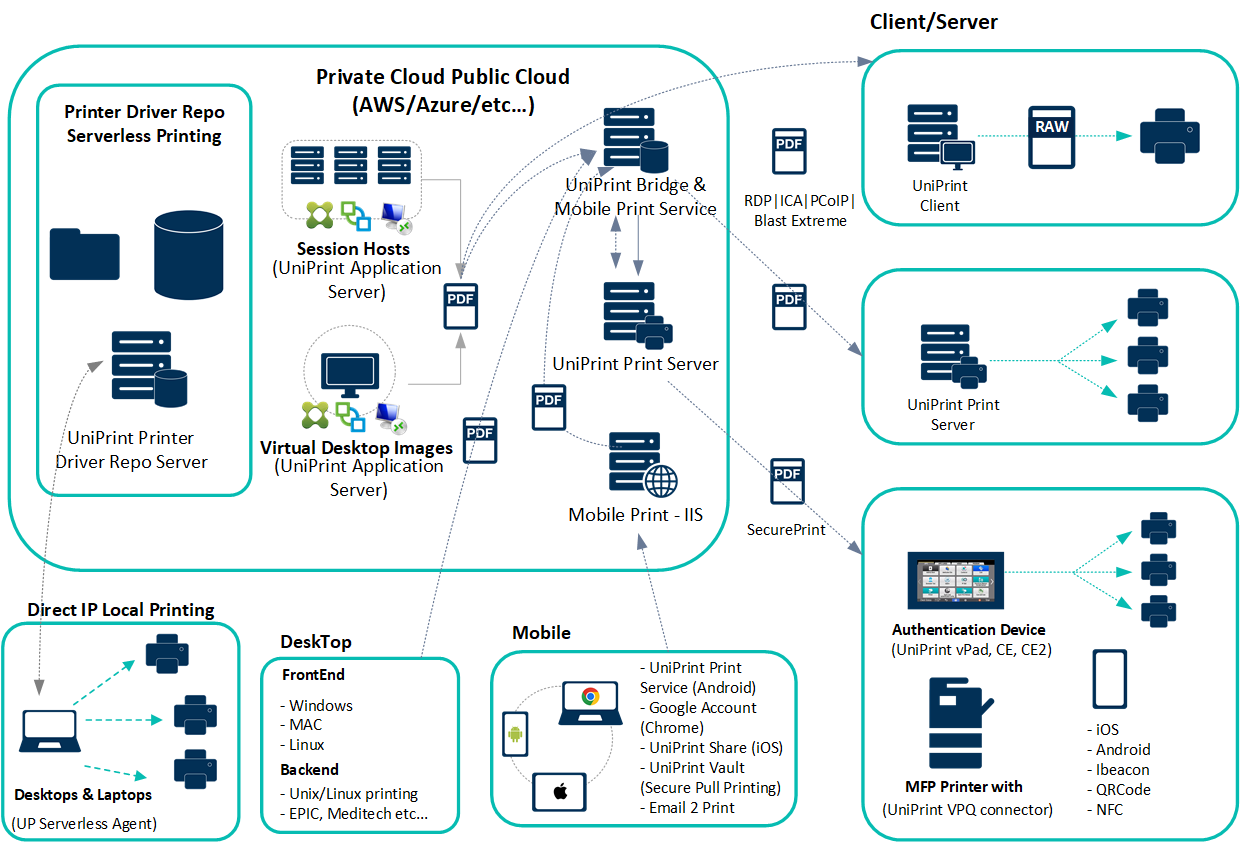 1
Direct IP Local Printing (Serverless): The Serverless module allows users to use direct IP printing between workstations and network printers, eliminating the need for print servers.
2
Mobile Printing Setup: Directly from a mobile device, users can print by installing the UniPrint app, connected to the UniPrint Mobile Service. The Mobile Service connects users to the Infinity suite, allowing them to print to network printers via secure pull printing technology, or email their print job as an attachment to a dedicated printer email address.
3
Secure Pull Printing Setup: Print jobs are printed through SecurePrint, requiring users to authenticate themselves in order to release their print jobs at a selected printer. User authentication can be done by a vPad device, embedded VPQ Connector, or mobile release.
4
Network Printers Setup: Users print from their server sessions to any of the network printers connected to the remote site UniPrint Print Server.
5
Client/Server Setup: Users print directly from their server sessions to a local printer connected to their workstation.