Zero & Thin Client Printing
Thin clients and zero clients are increasingly deployed across industry sectors for good reasons. Thin/zero clients offer a low-cost, PC-like user experience with better manageability, scalability and security. They are especially beneficial for industry sectors where security and compliance are at a premium, such as healthcare, banking and finance and governments.
Webinar: 5 Proven Strategies for Optimizing and Securing Your Print Environment
Get UniPrint Infinity
Zero & Thin Client Printing Solutions
UniPrint Infinity™ is a software-based printing solution designed to enhance the benefits of thin and zero client architecture, by providing fast and efficient printing to all clients across platforms, printer hardware, locations and geographies.
Whether their device is Windows-based or Linux-based, thin/zero client users can enjoy seamless printing across their network.
How it works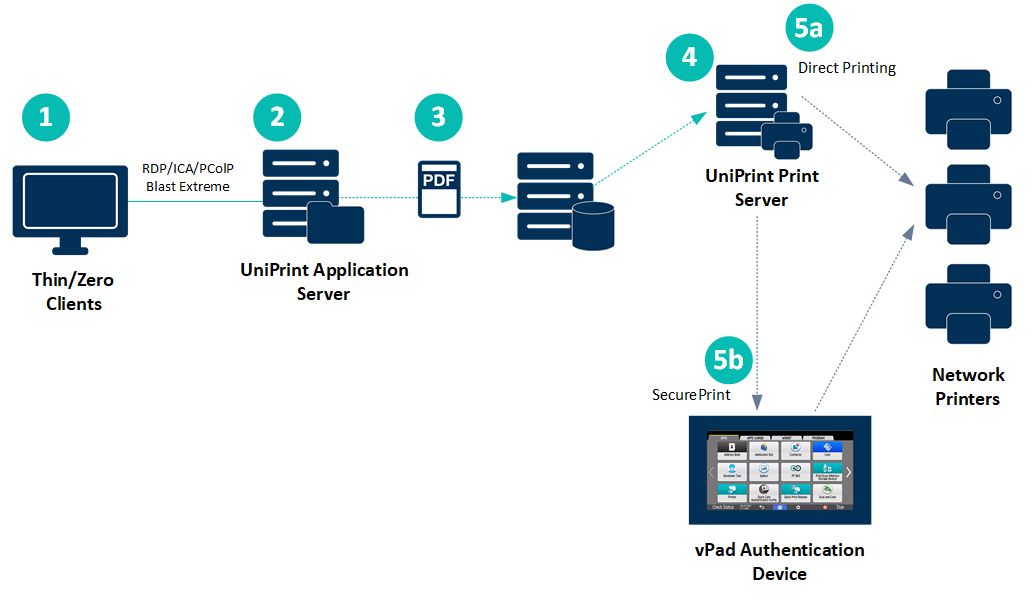 1
Users connect to their application servers and then from an open application print.
2
Using the UniPrint universal printer driver on the UniPrint Application Server, a compressed PDF file is created and then transferred to the UniPrint Bridge.
3
The UniPrint Bridge acts as a router and then transfers the PDF print job to the appropriate UniPrint Print Server.
4
Using native printer drivers, the UniPrint Print Server renders the print job into RAW print data.
5
The RAW print data is sent to the desired printer for printing.
5a
For direct printing, the RAW print data is sent directly to a network printer.
5b
For SecurePrint, the user authenticates at the vPad to release the print jobs and then the RAW print data is sent to a network printer for printing.
Functionality & Benefits
Installing UniPrint Print Server on network print servers,UniPrint Infinity allows thin/zero client users to print to any gateway printers and enjoy all the other benefits of UniPrint Infinity.
UniPrint UPD is standard in UniPrint Infinity, and also functions as a PDF generator. By compressing and converting print spool files into PDF, as much as 90% print data traffic can be reduced, ultimately promoting faster printing and bandwidth saving.
The result: Fast and seamless printing whether you are working on your Wyse thin client device from home or IGEL zero client in the office.
Support for Thick or Thin Clients
Based on UniPrint's patented Universal Printer Driver (UPD) technology and Virtual Print Architecture, UniPrint Infinity negates the need to install client software on user devices in any computing environment – including Citrix, RDS, VDI, and Cloud.
Through its UniPrint Print Server, UniPrint Infinity processes print jobs on behalf of thin/zero clients, such that client software isn't required on the client devices.