Secure Print Management
Every year corporations around the world spend billions of dollars to secure their e-mail systems and data centers. In stark contrast, only a tiny fraction of that amount is spent on securing printing.
Whitepaper: Secure By Design: 4 Proven Strategies for Optimizing and Securing Your Print Environment
Experience UniPrint Infinity secure printing
Print security threats are not only real, but also could and do manifest in enterprises. Quocirca's research (2013) reveals that 63% of organizations have experienced one or more accidental data breaches through printing. As a result, achieving a Secure Print Infrastructure is an ongoing consideration for all responsible and compliant IT departments.
Secure Print Solutions
Through UniPrint Infinity™'s secure printing software and secure pull printing solution, documents are only released when users authenticate their credentials by entering their passwords, or tapping onto the vPad user authentication device. No more documents ending up in the wrong hands.
Key Benefits & ROI
Same user experience regardless of device ensuring user acceptance and success
Print securely anywhere, any time from any device
Reduce waste (up-to 40%) and improve workflow
Pull printing ensure security
Statistics & archiving enable print usage tracking
Shared secure printers with different vLANS
Eliminate remote print servers – in-year savings
How it works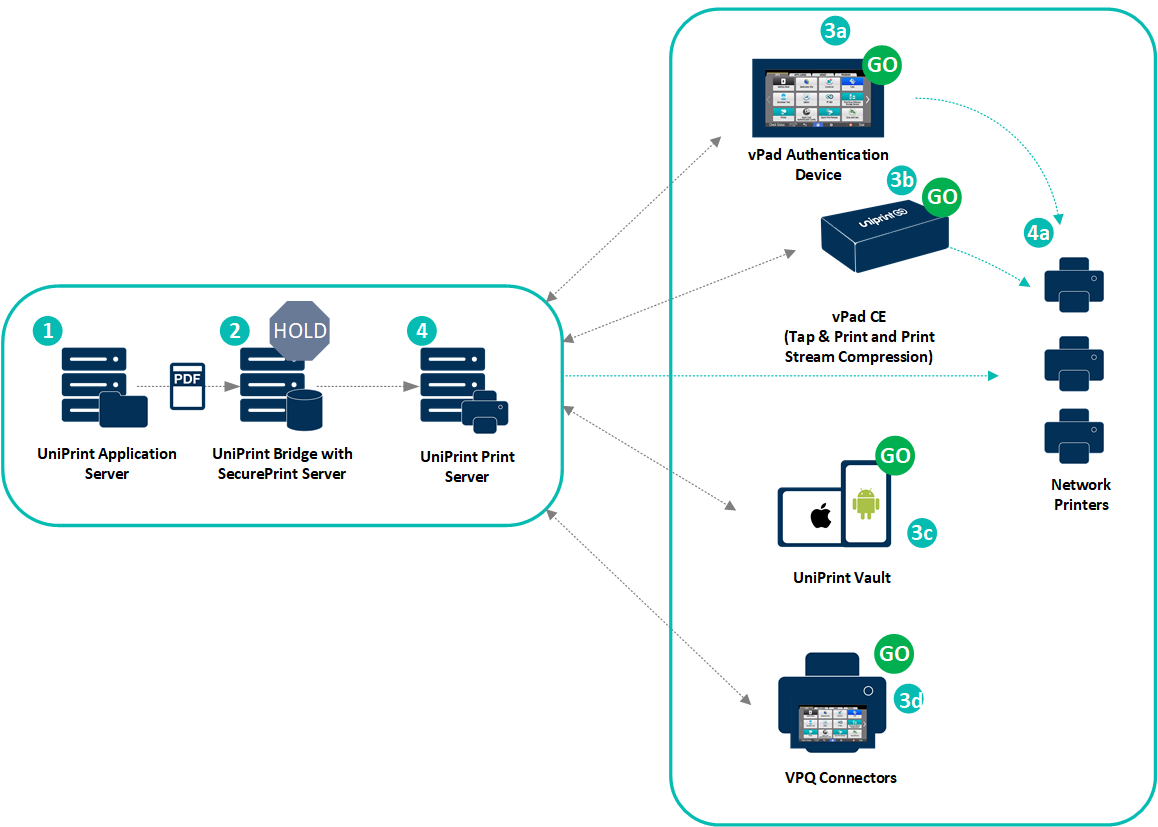 1
Within a server session, the user prints from an application and the UniPrint universal printer driver (UPD) creates a compressed PDF file. This PDF print job is transferred to the UniPrint Bridge.
2
The PDF print job is held on the UniPrint Bridge until the user releases it.
3
The user is required to authenticate at a vPad device.
3a
Depending on an organization's security requirements, a user maybe required to tap their RFID/HID smartcard, enter their SecurePrint password or both in order to release their print jobs.
3b
Since the vPad CE does not have a user interface, an external RFID/HID reader can be set up to facilitate Tap and Print. The user simply taps their RFID/HID smartcard and their print jobs are released.
4
The UniPrint Bridge transfers the PDF print job to the UniPrint Print Server. Using native printer drivers, the PDF print job is rendered into compressed print data and then streamed it to a vPad device.
5
The vPad device decompresses the print stream and then sends the print data to a network printer for printing.
One Virtual Print Queue & Dual Print Security
One of the core components of UniPrint Infinity™ is its innovative Virtual Print Queue (UniPrint VPQ) . Together with the universal printer driver (UniPrint UPD), UniPrint™ VPQ offers dual print security. When a user prints from any application to a single VPQ, UniPrint UPD compresses and encrypts the print data into a PDF print job, and stores it in a holding server (UniPrint Bridge).
The user then authenticates on a network print appliance (UniPrint vPad) by entering his/her corporate credentials or simply tapping his/her RFID or HID corporate device on the UniPrint vPad, and releases the print job to the selected printer in the proximity. UniPrint's vPad is designed to be fully compatible with any smart card reader, and can incorporate RFID, HID or FOB devices already employed by organizations.
UniPrint VPQ Connector plugins are offered to enable seamless integration of UniPrint VPQ with HP, Xerox, Brother, Ricoh, Konica Minolta and Samsung multi-function printers (MFPs), allowing organizations to deploy secure pull printing in their existing multi-vendor printer infrastructure.
Two-Factor Authentication Process
For added security, users can easily implement a two-factor authentication process. Users authenticate by tapping their RFID or HID devices on the UniPrint vPad, then create a confidential alpha-numeric PIN for releasing the print jobs – "Something you know and something you have."
The end result: With UniPrint Infinity secure pull printing, organizations can eliminate the possibility of documents lying in printer trays unattended, or being picked up and viewed by unauthorized personnel – or worst still, by corporate espionage.
Simple to Deploy and Manage
Like other modules within the UniPrint Infinity suite, the Secure Pull Printing, Delegate Printing and Print Statistics & Archiving Modules can be centrally deployed and managed from a single GUI-based management console.
Delegate Printing
UniPrint Infinity allows users to delegate the right to print their documents to another user or user group(s) through PIN-coded user authentication on the vPad or assigned printers.
Print Statistics & Archiving
UniPrint Infinity offers a Print Statistics & Archiving Module that allows the tracking of user printing activities – who prints what, when, where and how, and monitoring for irregularities across your enterprise for auditing and security. The module also enables the archiving of all print documents as compressed PDF's in your own database for record keeping. PDF reports by Print Job Activity, User Activity Summary, Day of the Week Usage, and Top N User can be exported on demand. This is especially valuable if your organization has to comply with legislated governance or security requirements. With data on enterprise printing trends and costs, you are able to gain insight into the true costs of printing for management planning.
Webinar: Types of Breaches that Occur Through Printing and How To Secure Your Print Infrastructure