Mobile Printing Solution (BYOD)
Mobile Printing is here! As mobile devices are becoming increasingly important, IT staff are faced with the growing problem of security breaches while supporting user productivity. Large numbers of highly mobile knowledge workers are bringing their own devices to work, which runs the gamut from laptops, notebooks, tablets, smartphones to wearables. IT departments are scrambling to develop and deploy BYOD policies and Mobile Device Management (MDM) software to ensure corporate governance and safeguard against security risks.
Webinar: 5 Proven Strategies for Optimizing and Securing Your Print Environment
Get UniPrint Infinity
Embrace BYOD & Mobile Printing Software
As the use of mobile devices – self-owned or corporate-assigned – spreads across the workplace, businesses must re-examine their printing infrastructure as an integral part of their corporate mobile and BYOD policies, in order to transform the enterprise workflow, improve productivity, ensure corporate governance and safeguard against security risks. With the increasing use of mobile devices, IT decision makers must embrace this opportunity to transform enterprise workflow and improve productivity by enabling their highly mobile knowledge workers to securely print with their mobile from anywhere.
With UniPrint Infinity™ secure mobile printing solution, CIOs and IT departments can rest easier at night about letting employees print from their personal devices.
Go head, embrace this new mobile printing trend and make your end users happy. After all, Gartner predicts that by 2020, 20.8 billion connected things will be in use worldwide.
Key Benefits
Allows administrators to quickly and easily convert any windows print queue into any device enabled printer
Simple configuration, printers just appear as available to users
Integrates with UniPrint Infinity features like SecurePrint and Statistics & Archiving modules
How it works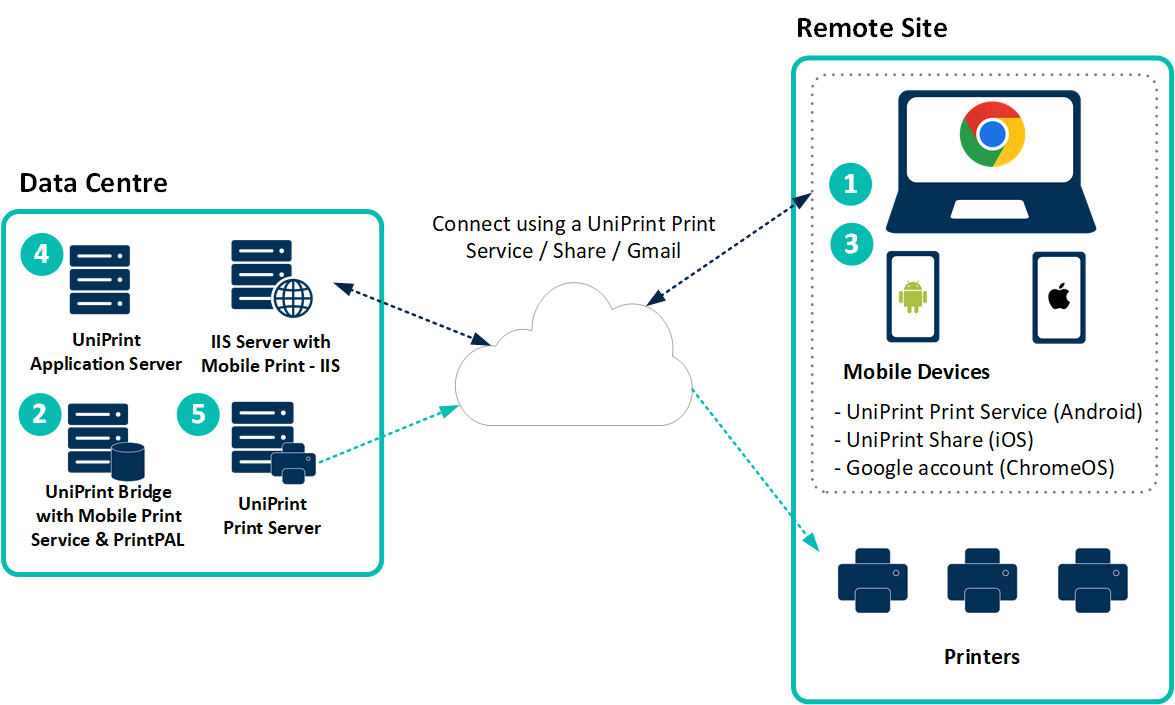 1
The user connects and authenticates using their domain accounts for UniPrint Print Service (Android), UniPrint Share (iOS) or by Google account (ChromeOS).
2
PrintPAL on the UniPrint Bridge automatically adds printers to user sessions and the permissible printers will appear available on the mobile device.
3
The user prints from an app on their device and selects one of those printers.
4
The UniPrint universal printer driver (UPD) generates a compressed PDF and then transfers the print job to the UniPrint Bridge. The UniPrint Bridge then routes the print job to the appropriate UniPrint Print Server.
5
The UniPrint Print Server renders the print job into RAW print data and transmits the data to the appropriate printer for printing.
Email to Print
1
The user sends an e-mail with an attached file that they want to print to a designated e-mail address for a specific printer, for example: [email protected].
2
The Email server forwards the e-mail message to the UniPrint Bridge with Email2Print Server.
3
The UniPrint Bridge removes the attachment and creates a compressed PDF file which is then transferred to the UniPrint Print Server.
4
Using native printer drivers, the UniPrint Print Server renders the PDF file into RAW print data.
5
The RAW data is sent to the printer for printing.
5a
The RAW print is sent directly to a network printer for printing.
5b
Alternatively, if SecurePrint is configured, after the user authenticates on the vPad, the RAW data is sent from the vPad to a network printer for printing.
AirPrint Printing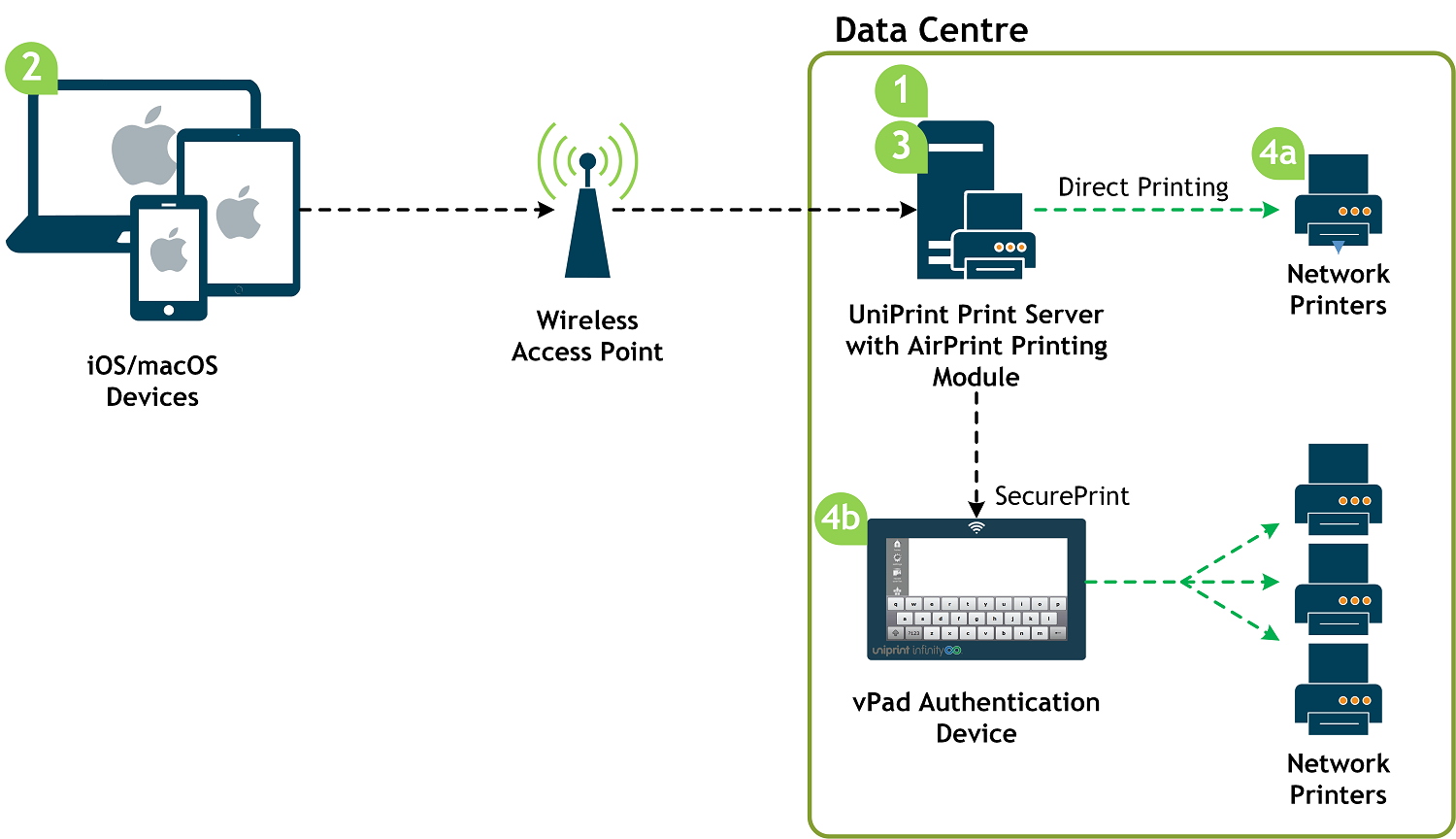 1
UniPrint Infinity converts printer instances on the UniPrint Print Server into AirPrint printers. AirPrint printers are broadcast to the Apple mobile devices as available printers to which to print.
2
The user prints to a UniPrint AirPrint printer.
3
The UniPrint Print Server then renders the PDF file in RAW print data.
4
The RAW print data is sent to the appropriate printer.
4a
For Direct printing, the RAW print data is sent directly to the AirPrint printer.
4b
For SecurePrint, the user authenticates at the vPad device first to release the print job and then the print job is printed out at the AirPrint printer.
UniPrint Infinity for Mobile Printing iOS/OS X
As part of a Citrix or Microsoft Remote Desktop Services (RDS) environment, the UniPrint Infinity iOS/OS X Printing Module allows iPhone,iPadand MacBook users to print directly to ANY network printer, not only to special printers that are AirPrint-certified.
UniPrint Infinity's iOS/OS X Module turns any printer on the UniPrint™ Print Server into an Apple-compatible printer and enables printing from Apple devices connected to your corporate network. Zero configurations are required for the user device, and the mapped printers will just appear as available to the user.
Using UniPrint's Universal Printer Driver (UPD), any BYOD user will now enjoy all the other benefits of UniPrint Infinity including secure pull printing.
For added security, users can download UniPrint Connector and UniPrint Vault to print through the Virtual Print Queue for user authenticated print release on your mobile device.
Support BYOD Printing & Guest Printing with Email to Print
UniPrint Infinity's Email2Print Module allows smartphone and tablet users who are not connected to the corporate network to send documents as attachments to an e-mail address that is associated with a particular printer for printing. Authorized users – internal or guests (e.g. visiting doctors at hospitals, or clients visiting their law firms) – can easily print from their iOS, OS X, Chrome OS and Android device that has an email client.
Corporate IT only needs to assign an email address to a designated print queue/printer. Users simply email the print document as an attachment to the email address, and the document will print to the designated printer. At the same time, security is kept in check as print data can be kept inside a corporate sandboxed environment, such as WorxMail for Citrix XenMobile.
The Email2Print Module fully integrates with the SecurePrint and Statistics & Archiving Modules to track user print statistics and provide added security and compliance.
Webinar: How To Integrate Any Mobile Device Into Your Printing Environment