Printing Landscape: Citrix Synergy 2018 Survey Findings
By Arron Fu, CTO, UniPrint.net on May 25, 2018

Citrix Synergy 2018
Citrix Synergy 2018 offered an excellent opportunity to introduce and showcase various technologies to thousands of experts, decision makers, and end-users at all levels of Information Technology.
With valuable information being disseminated directly from company heads and product managers, Citrix Synergy provided a great learning experience for professionals from all across the IT industry.
UniPrint at Citrix Synergy 2018
UniPrint.net Managing Partner, David Fung (CEO), and Regional Director, Americas, Marisol Lopez, attended Citrix Synergy 2018 to showcase UniPrint's Integrated Healthcare Solution and One Management Platform for Hybrid Environments.
Printing Landscape Survey Findings
UniPrint.net conducted a survey at Citrix Synergy 2018, and 423 attendees participated in the survey!
Participants were asked two questions pertaining to printing, and IT-solution decision making challenges.
Major Printing Issues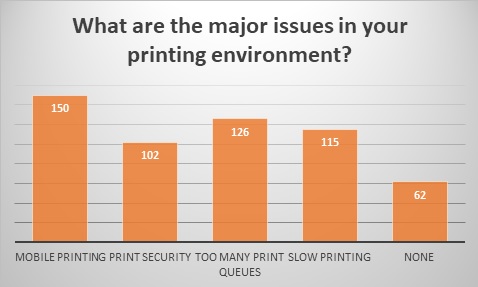 The first survey question explored various significant issues affecting printing environments for participants.
Mobile printing was the biggest printing environment challenge for the majority of survey participants, while an excessive number of print queues and slow printing speeds rounded out the top three major issues for participant printing environments.
Print security was also a major concern for several survey participants.
Mobile Printing
It's not atypical to see that 150 participants voted mobile printing as a major printing issue at Citrix Synergy 2018.
The enterprise world is becoming increasingly mobile with employees wanting to print on the go and from their mobile devices to achieve maximum productivity.
Many companies are still looking for solutions to successfully incorporate mobile printing into their enterprise setting.
Fortunately, there are mobile printing solutions now available in the market which simplify the process for both employers and employees.
It's as simple as downloading a third-party app, hitting print, and grabbing your document from the most convenient printer for you!
Too Many Print Queues
126 voters viewed too many print queues as being a primary printing concern.
This becomes challenging in an enterprise setting where the number of printers outnumbers the number of employees, resulting in a high printer to user ratio.
By adopting an amalgamated virtual print queue, users do not have to worry about their documents being taken by unauthorized users, either intentionally or unintentionally.
Furthermore, they are able to print and pick up their documents at whichever printer is most convenient for them!
Slow Printing
It's quite surprising to see that 115 participants voted slow printing as a major concern for their printing environment.
High printing speed is essential for enhanced productivity levels in most enterprise settings.
Enterprise printing speeds do vary, however adopting a print driver which compresses print jobs into smaller files may enable faster transmission and printing speeds.
Other possible secondary reasons may include weak or faulty network connections.
---
Interested in learning more about UniPrint and Citrix? Check out this free webinar on 5 real printing benefits you can reap by adding UniPrint to Citrix!
---
Factors for Choosing IT Solutions
The second survey question explored what factors participants considered most important when choosing a third-party IT solution.
The ability to integrate with other applications was the most important aspect for the majority of survey participants.
Cost and return on investment, along with increased workflow efficiency rounded out the three most important factors in selecting the appropriate third-party IT vendor.
Integration with Other Apps
171 participants voted for integration with other apps as being the most important factor to consider when selecting an IT solution from a third-party vendor.
This is not surprising at all, with technology increasingly overlapping and users desiring integration of all the services they use across all platforms.
In terms of printing, it is vital for an IT solution to be able to integrate with all types of applications and provide seamless printing from any source.
Cost & Return on Investment
160 voters viewed cost and return on investment as being the primary factor in deciding whether to adopt an IT solution or not.
In the corporate world, companies are always looking for ways to reduce their costs and maximize their return on investment.
Printing is no exception, with Gartner estimating that enterprise printing expenses are equivalent to 3% of annual company revenue.
Increase Workflow Efficiency
147 responses from participants ranked increasing workflow efficiency as being the main consideration for choosing an IT solution.
Undoubtedly, companies would not incorporate and implement third party IT solutions if they did not enhance the efficiency of the workflow.
As it relates to the world of printing, making the printing process more efficient is a prime concern for companies looking to adopt third party printing solutions.
Check out this free webinar on 5 real printing benefits you can reap by adding UniPrint to Citrix!
Try UniPrint InfinityCloud
Whether you are printing at the office or at home, UniPrint InfinityCloud is the cloud printing solution of choice for your organization.