Time is of the essence for people in on the go. Whether they are on the way to school, having a drink at the coffee shop, or pumping gas at the gas station, documents need to be printed. Gain new customers and generate more revenue by providing cloud-based public printing solutions for people on the go.
ePRINTit has the most powerful cloud processing system in the world, available where and when business happens. Expand your business offerings across the board and provide the conveniences of home for your customers so they feel comfortable wherever they are.
Campus Printing Solution
This software provides higher education or account based printing software designed for higher education and K-12, air offices, libraries, brokerage or franchise firms etc.
ePRINTit Account Managed Services software is specifically designed for any location that wants to assign specific and controlled monetary payments and tracking of all print and scanning within a controlled environment. All documents use a Universal print driver technology that stores, encrypts and sends a compressed PDF formatted document or image file.
The solution provides Active Directory and SSO Mobile APP's specific to your account and touch screen software to print preview only your print cloud account. Users can manage their funds on the convenient web portal or mobile APP's or at the release stations.
Public Printing Software
This software is designed for print franchises and copy shops, post offices, convenience stores, coffee shops, hotels, motels, vacation spots and air rentals, libraries, gas stations, rest stops, government services etc.
The ePRINTit software provides a convenient and secure solution for all anyone using various mobile devices on multiple networks. Global branding and geo-location software make it easy for people to use many mobile APP's such as ePRINTit or HP ePrint Mobile APP's and Desktop driver solutions.
Full Credit/Debit charging API available to connect to your payment processor or management system or let us manage that all for you.
Customers easily receive their print request by sending their attached documents through our mobile APP's or by email or on our web portal and receiving an 8-digit secure release code. With more than 28,000 locations world-wide there is a place for you to print such as FedEx Office or UPS Office Stores.
Both solutions ensure documents are hyper secure and are device or printer agnostic. ePRINTit also provides integrations into secure print management software like UniPrint Infinity, extending all the benefits from their unified platform.
Why You Should Consider ePRINTit Public Printing
Ease of Use 
Offer 24/7 cloud printing  at any location world-wide and any ePRINTit app user searching for a print location within your area will find you.
Improved Security
Enable secure mobile printing directly from mobile devices and uses a secure release code system to keep all documents private.
Reduced Costs
 Reduce your cost of printing and print management with NO print Server, and provide selective options and defaults at printer.
Reduced Strain on IT
Reduce IT support & print costs with ePRINTit's fully managed service – install, monitor and support your own kiosk and print release stations 24/7.
Additional Revenue
Earn more revenue with services by allowing students to pay for print jobs with student cards, making transactions easier for them and profitable for you.
Custom Branding
Set up a branded email address (XXXX@eprintitservice.com) for users to release their documents at ANY enabled printer.
How ePRINTit Technology Works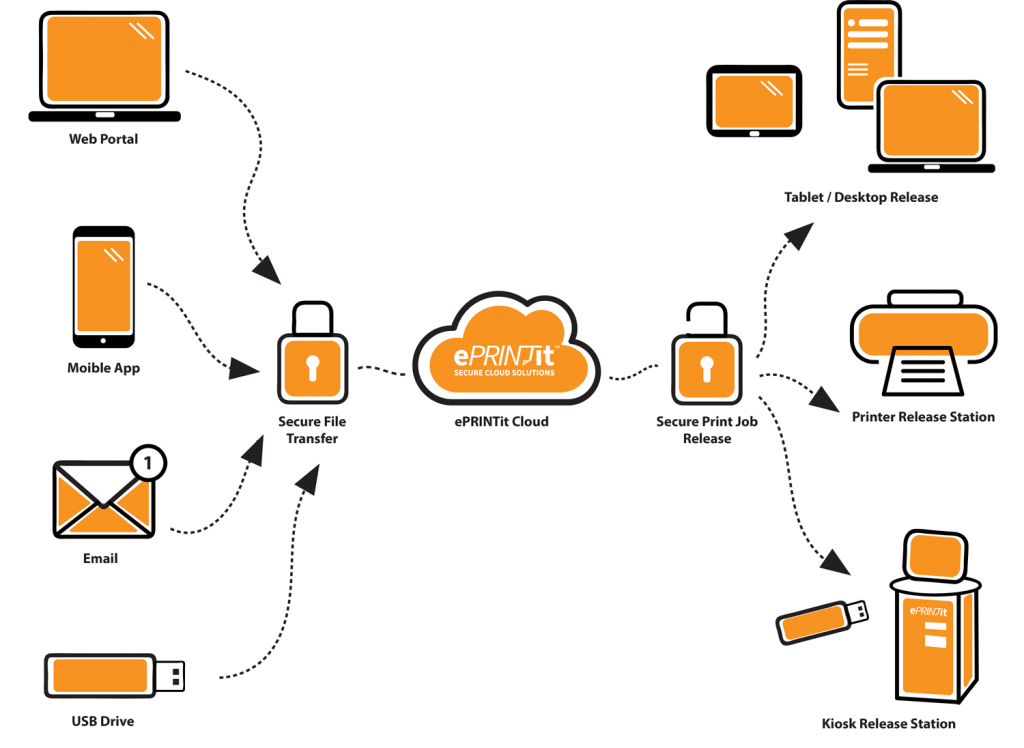 Access Points
ePRINTit is accessible in several easy ways
The Web Portal – The school or retail branded ePortal includes management reporting and a private portal for job storage that tracks their expenses. Users can  manage their own account, upload documents, run detailed reports and add funds to their account. The eprintitservice.com website allows anyone to search for and send documents to any ePRINTit location in the world.
Mobile App – Users can use the ePRINTit Public Mobile APP (Android | iOS) or the ePRINTit Campus Mobile APP (Android | iOS) for AD Integration to access their own private, branded application from their mobile, tablet or desktop. Users at all locations can also use the HP ePrint mobile APP and choose nearby locations. They can also deposit funds directly to their account and can select files to send to the print kiosks. Available for free on all APP Stores.
User Email – Users can send files from their school email to an eprintitservice.com email address to receive the files in their accounts to manage and quickly print from ePRINTit kiosks. Public Locations will have an email address allowing users to print using a secure release code.
File to Print – Schools can use our specially designed file-to-Print driver solution for Public and Private computers. Users authenticate when job is sent to their private cloud and retrieved form any printer.
USB Drive – Students can access and print their documents from the closest print kiosk via their USB drive with the Campus software solution.
Kiosk Release Stations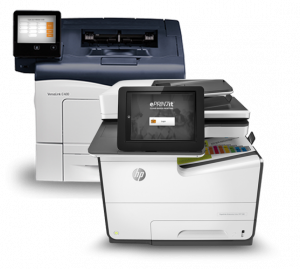 HP OXP Printer Release Station (embedded in the HP Printers using OXP).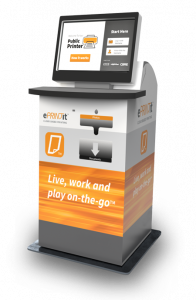 ePRINTit Kiosk Station or PC release station attached to any MFP or Printer.
Tablet Release Station using windows 10 wired or wirelessly linked to any default printer.
Public Documents are 100% Secure
ePRINTit™ enables mobile printing directly from the mobile device (laptop, smartphone, tablet) to designated printers at your property.
Users can print by emailing documents to a printer's unique email address, uploading documents to a web printing portal via URL, or by using one of the mobile printing apps available for iOS and Android devices without having to download and install printer drivers or connecting to the network! ePRINTit™ uses a secure release code system to keep all documents private.
After a document is sent for printing, a release code is sent back to the user which they use to release their documents. Documents not released are never printed, helping to eliminate paper waste and your user's security.
Request more information