FSLogix Apps is a suite of products that dramatically enhances your ability to deliver applications, profiles, and Office 365 to your virtual desktop users through the use of state-of-the-art filter driver technology. Our products work seamlessly with any infrastructure that virtualizes Windows desktops, and are the only products on the market that provide complete feature support for both single-user and multi-user desktop virtualization. FSLogix products are cloud-ready and infrastructure- free, meaning you can easily test and deploy them without disrupting your business. We've even made our product available as individual modules that work alongside other profile or application- management platforms.
FSLogix Products:
Are completely cloud-ready 
Are totally infrastructure-free
Have no database or backend requirements 
Are state-of-the-art filter driver technology 
Enable you to create a single Windows 10 master image
FSLogix™ Office 365 Container
FSLogix Office 365 Container is an easy to deploy, easy to manage solution that roams the user and application data needed for Office applications to operate optimally in all virtualized desktop environments. • Enables true Cached Exchange Mode • Cache and roaming for Outlook, OneDrive, OneNote, S4B GAL, and Click-to-Run • Roam Windows Search Database to XenDesktop and XenApp users • Compatible with all Exchange deployments from on-premises to cloud (O365)
Evaluate FSLogix Apps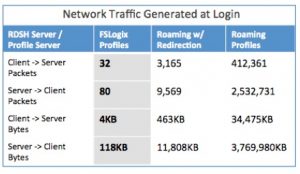 FSLogix™ Profile Container
FSLogix Profile Container is a roaming profile solution built for XenDesktop and XenApp environments to eliminate issues caused by folder redirection and roaming profiles.
• Encapsulates the entire user profile (including registry) in a VHD container
• VHD is stored on the network and dynamically attached at user logon
• "Just-in-time" file transfer means extremely fast logon times without typical
SMB bottlenecks
• Includes support for multiple concurrent sessions
FSLogix™ Application Masking
FSLogix Application Masking is a modern approach to application provisioning that allows apps for all users to be installed into a common base image without taking up
a license.
• Simplify application version control and rollback for application updates
• Easy application provisioning without the need for packaging or sequencing skills
• Massively reduce the number of Windows gold images in your environment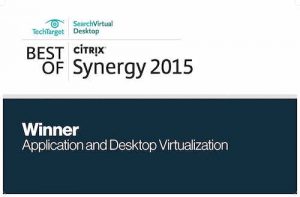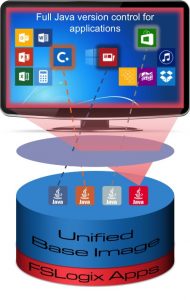 FSLogix™ Profile Container
FSLogix Java Control allows administrators to simply and easily control which version of Java a particular application or URL will use.
• Run the specific version of Java you require for full app compatibility
• Collocate multiple versions of Java on the same Windows image without app-virt
• Configure a white list to ensure all legacy versions of Java are hidden
FSLogix is the leading innovator of solutions that reduce the amount of hardware, time, and labor required to support desktop virtualization and improve workforce productivity. We have implementations that range from 100 users to 50,000 users across all verticals around the world, and we are partnered with Microsoft, Amazon Web Services, VMware, and Citrix. Let us show you how we can help your enterprise reduce support requirements for cloud implementations and maximize the benefit of your desktop virtualization investments.