Hidden Costs of Printing – How Much Are You Spending?
By Arron Fu, CTO UniPrint.net on July 5, 2017
Organizations are constantly striving to run more efficiently, cut costs, and increase employee workflow. However, one area that is frequently overlooked is the office printing environment, which can be a huge barrier to achieving efficiency and cutting costs.
It is estimated that organizations spend approximately 1-3% of annual revenue on printing, and what's even more concerning is that almost 90% of North American companies are unaware of exactly how much they're spending on printing.
Printing has become a large hidden cost that organizations can no longer afford to ignore. With an uncontrolled printing environment, companies risk losing their business thousands of dollars each year in waste and inefficiencies.
The Uncontrolled Printing Environment:
Many organizations simply do now know what their printing infrastructure is costing them for several reasons:
Printer Responsibility: It is not unusual for the responsibility of purchasing, deploying, and supporting print devices to be split among several individuals in an organization.
Due to the fragmentation of responsibility, there is no single group or individual in charge of the printing environment, so often decisions are made without proper attention to the business needs.
---
Interested in finding out more about the hidden costs of printing? Check out this free whitepaper on considerations for reducing your printing costs!
---
Print Devices: Offices are often filled with a variety of printers, copiers, and MFPs, from different brands with different functions.
Many of these devices may be underused, printing less than they should and staying idle for large portions of the day.
Organizations that use a wide range of print models, manufacturers, and drivers create support problems for helpdesk.
With a wide range of devices on an unmanaged print network also poses a security risk as these printers and MFPs are open to the same security vulnerabilities.
Uncontrolled Costs: 90% of North American companies do not have a real understanding into the costs associated with printing.
The cost of maintenance, service, and supplies are paid by individual departments, which leaves the printing environment without centralized control.
Companies are unable to track these costs cross-departmentally, so a large portion of the total costs go uncontrolled and unknown.
Print Management: Without the proper print management software tools to allow businesses to track, monitor, audit, and control the printing environment, companies are unable to reduce waste, optimize performance, and make guided decisions when purchasing new devices.
Hidden Costs of Printing
The total cost of ownership of printing devices goes far beyond the upfront purchase price, but also considers the running costs, environment impact, and support costs.
A Quocirca Study estimated costs to be broken down as follows: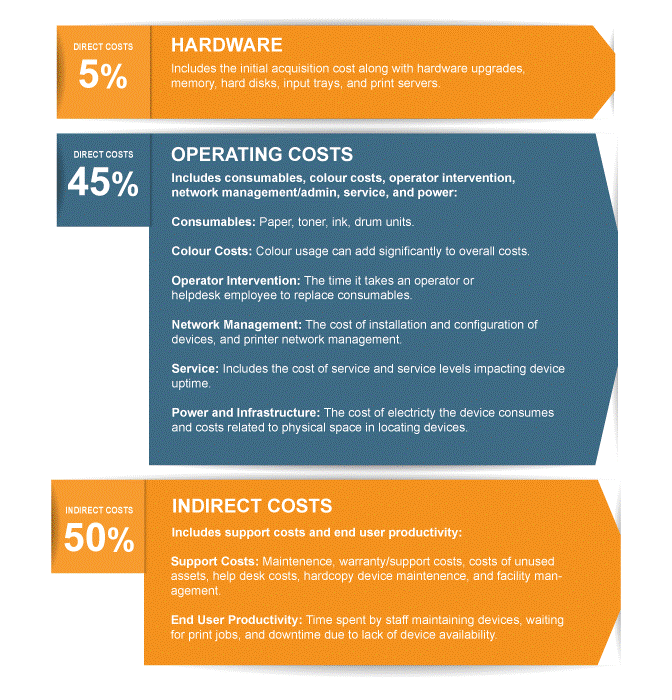 Knowing the hidden costs involved in printing environment, organizations can achieve cost savings, and improve employee and document workflow.
Try out our print management return on investment calculator to identify possible cost saving opportunities and develop strategies to optimize your print environment.

Try UniPrint InfinityCloud
Whether you are printing at the office or at home, UniPrint InfinityCloud is the cloud printing solution of choice for your organization.