Educause 2017: UniPrint & Citrix – Better Together in the Cloud
By UniPrint.net on October 13, 2017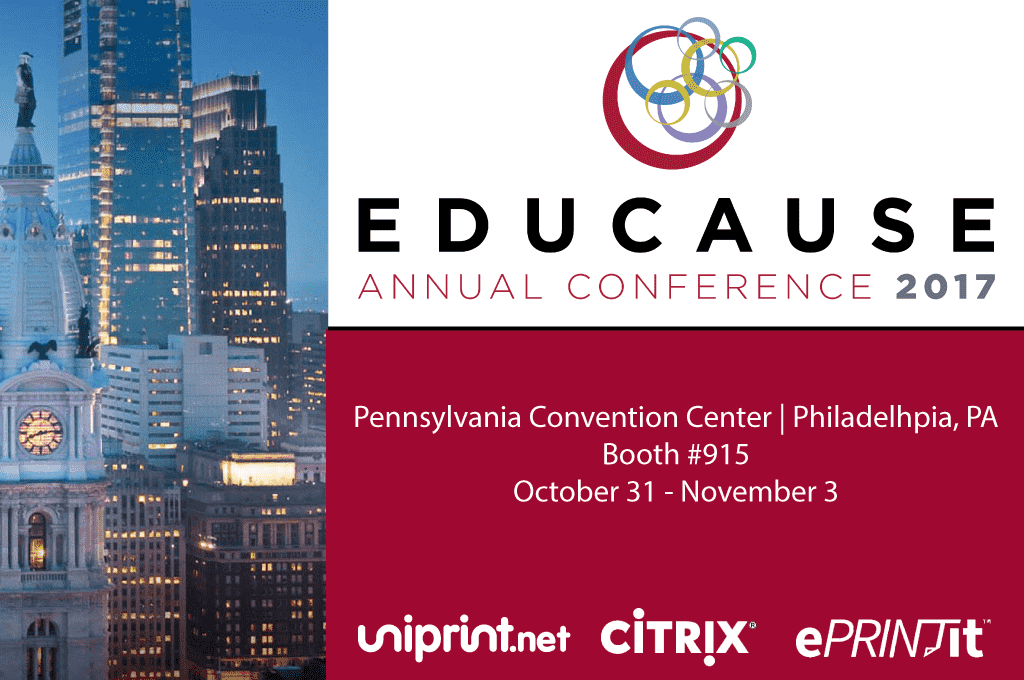 The
Educause Annual Conference
hosts education industry professionals and technology innovators from around the world to share ideas, network, discuss new challenges, and discover solutions. UniPrint will be exhibiting with at the Citrix Ready Partner
Booth #915
from October 31
st
to November 3
rd
. Nowhere is technological innovation more vital than in the education sphere. Despite all the advancements in technology, printing has and will always remain a crucial aspect of day to day life at educational institutions both for staff and students. Despite technology's move towards digital and Cloud solutions, printing remains an area with many unique challenges. Because printing is so critical, the need for moving to a
cloud printing infrastructure
that enables secure printing anywhere and anytime is a necessity for nearly all businesses, particularly those in the education industry. In order to meet the printing demands of your business, UniPrint's flagship print management software, UniPrint Infinity™, works seamlessly with existing Citrix environments. The key motivation behind UniPrint's partnership with Citrix is to achieve optimize Citrix workflows for increased efficiency. The benefits of adding UniPrint Infinity to Citrix include:
One Universal Printer Driver
One Virtual Print Queue
Secure Pull Printing
PDF Print Compression
High Availability
Mobile & Cloud Printing in Citrix/Azure
In addition, UniPrint will showcase the newest edition to the vPad series of print appliances and new Serverless Printing technology, along with ePRINTit's Cloud-based print release kiosk technology.
---
Interested in finding out more about UniPrint added to Citrix? Check out this free webinar on some of the benefits of UniPrint added to Citrix!
---
UniPrint and ePRINTit Solutions
Special guest ePRINTit will also be joining UniPrint to demo their unique print technology that unifies printing for educational organizations big and small. ePRINTit has made it possible for students and staff members of a school to print documents in and out of campus wherever, and with their existing printers.
UniPrint Live Presentation
We all know that Citrix and Azure quickly deliver secure apps in the Cloud, but what if you need to print? How do you print securely from the Cloud? David Fung, Managing Partner at UniPrint.net, will be giving daily seminars on Cloud printing at the Citrix booth #915. Presentation times are at 12:30 PM on November 1
st
and November 2
nd
During this 20-minute presentation, David will be showcasing how UniPrint's Virtual Print Queue technology, along with the vPad print appliances, allow you to:
Print securely and on-demand to any printer without VPNs or Firewall configurations, improving user workflow
Delegate print jobs from home to office or from person to person securely
Print seamlessly and securely from private cloud to public printing locations
Reduce print costs by as much as 40% by reducing print waste and eliminating the need for remote print servers
We look forward to meeting new-faces at Educause 2017. Be sure to visit our booth to gain an insight on our
print management solutions
, and how it can enhance your printing environment!