High Availability Printing – How To Ensure Maximum Printing Uptime
By Arron Fu, CTO UniPrint.net on March 22, 2016

Future Proof Your High Availability Environments
In today's fast paced mobile enterprise environment, a printing outage is more often than not a huge problem that results in loss of productivity and increased help desk calls.
In certain industries such as healthcare and government, even a minor printing issue can have a detrimental effect on their users or customers.
It is crucial that enterprise business environments with a high dependency on maximum printing uptime take the time to properly make printing highly available within their IT infrastructures.
Below we will briefly touch upon virtualization, high availability, and high availability printing.
What is High Availability?
Now that most organizations have begun virtualizing their environments, downtime has become a major issue, especially for industries that require no single point of failure.
There can be many reasons for unavailability in an enterprise IT system, which can range from the physical location & environment to the monitoring of relevant components.
Virtualizing a system means taking away the hardware dependency and allowing users to virtually move back and forth between machines if something goes down.
Implementing high availability systems can help system administrators create complex environments that will minimize the scope of failures and downtime by removing the cause of human errors.
There are currently three main virtualization vendors that supply high availability, Microsoft Hyper-V, VMware vSphere and Citrix XenApp, all of which provide a decent amount of redundancy for printing.
---
Interested in finding out how you can ensure maximum printing uptime? Check out this free webinar on achieving 24/7 printing uptime in your print environment!
---
However, in 2012, Microsoft discontinued their Clustering Service for printing and replaced it with high availability Hyper-V virtual machines (or any HA in other virtualized environments).
While, high availability generally gives a good amount of redundancy for printing, there is always a small amount of downtime for the print server to be rebooted.
Depending on the organization or industry, the amount of downtime may be miniscule and unnoticeable to the user, but for users in a healthcare or finance environment, there is constant need for fast and efficient printing.
Virtualization is a huge commitment, so be sure to do your diligence and complete several tests and POCs to see which virtualized environment is best for you.
How High Availability Printing Works
For those who are in industries that require maximum printing uptime, a good option to look at are third party vendors that have a redundancy solution for printing.
Here at UniPrint.net, high availability printing is setup so that both the bridge server and print server are duplicated, as seen in the diagram below.
The two print servers are connected to separate bridge servers so that if the primary bridge or print server fails, users are redirected to the secondary bridge or print server and printing continues to function normally.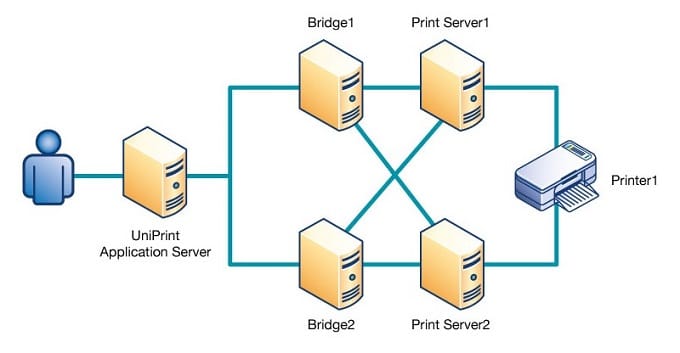 This high availability printing setup eliminates any single point of failure in the printing system, which then maximizes printing uptime for enterprise environments.
With the increase of mobility in the workforce, enterprises need to future proof their high availability environments to match the growing demands of their users.
The additional deployment of high availability printing will not only increase productivity and convenience for industries and users who require this service, but you can be assured that printing will remain worry-free for years to come.
Try UniPrint InfinityCloud
Whether you are printing at the office or at home, UniPrint InfinityCloud is the cloud printing solution of choice for your organization.