Print Serverless Printing: Is it Right for your IT Environment?
By UniPrint.net on February 22, 2017
Is Serverless Printing Right For Your Print Environment?
Print serverless printing enables direct Internet Protocol (IP) printing from computers to network printers.
Each workstation is configured to connect directly to each printer with each corresponding printer driver.
This type of setup removes the complication of having a piece of dedicated server for printer purposes.
Serverless Printing Benefits
Enables fast and stable printing as print traffic goes directly from the workstation to the mapped printer.
A serverless printing setup removes any single points of failure and is inherently redundant, so users can continue to print even if there is a WAN outage or a server failure.
---
Interested in learning more about serverless printing? Check out this free whitepaper on remote site print servers!
---
Serverless Printing Issues
Print maintenance becomes a hassle with serverless printing as IT admins need to individually update workstations that print to a specified printer.
Print security is also an issue, since printers are no longer a part of Active Directory, admins have very little control over them.
Third Party Serverless Printing Solutions
There are third party serverless printing solutions available that work by having an agent run on each workstation, which then automates the connection to a specified printer and provides access control to admins through Active Directory.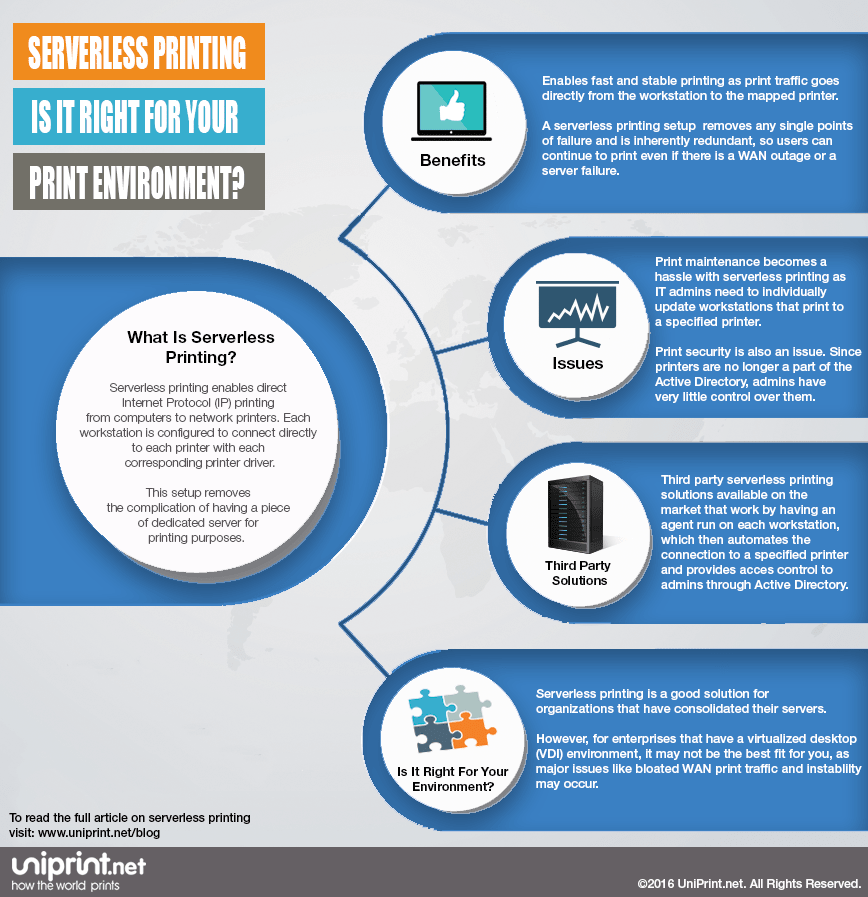 Try UniPrint InfinityCloud
Whether you are printing at the office or at home, UniPrint InfinityCloud is the cloud printing solution of choice for your organization.