Join Us in Redefining Digital Printing at VMworld 2017
By UniPrint.net on August 22, 2017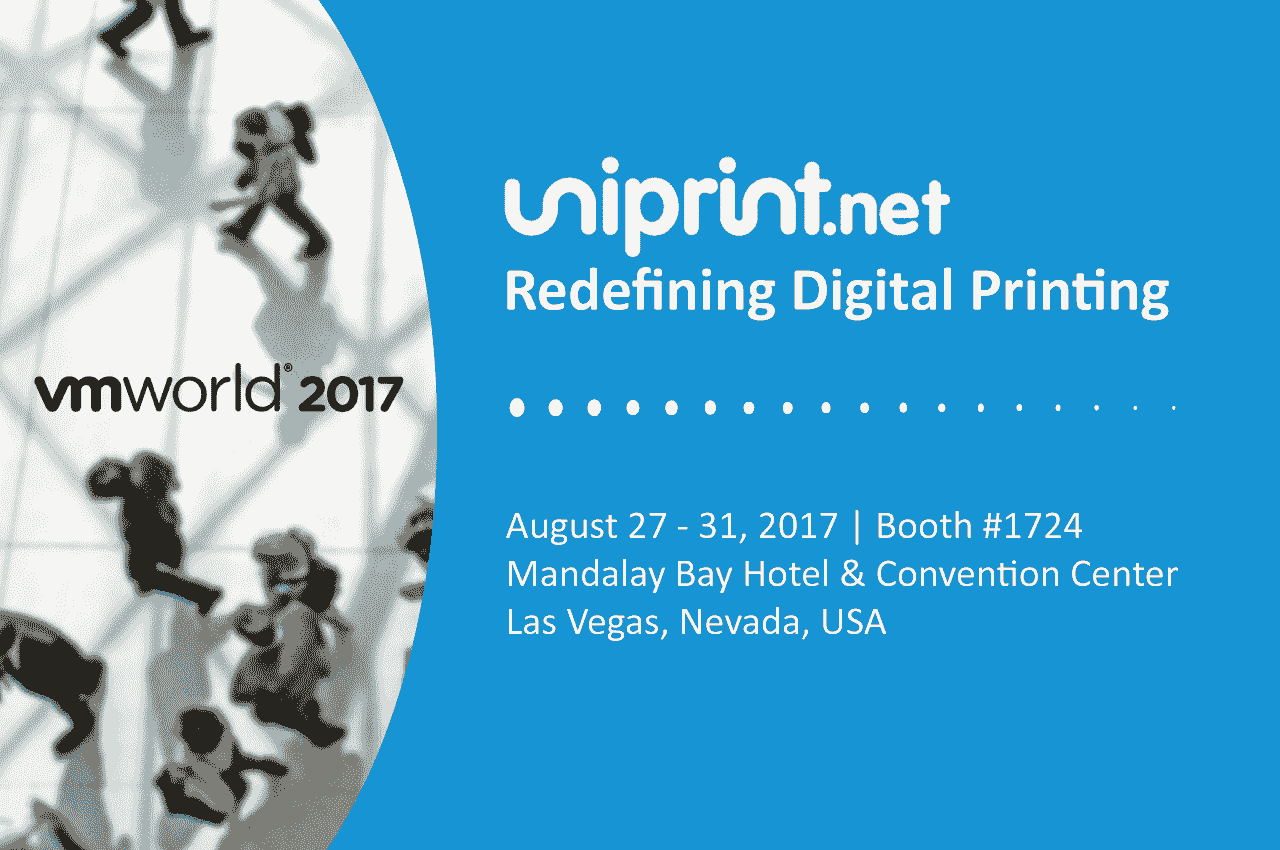 VMworld is VMware's destination for cloud infrastructure and digital workspace technology professionals.
At VMworld, you'll join the industry's top thought leaders, subject matter experts and IT professionals to immerse yourself in the latest in cloud infrastructure and business mobility technology.
UniPrint.net and Citrix Partnership
Organizations today constantly function in a fast paced and volatile environment and despite all the advancements in VDI technology, printing remains a critical function within many industries.
Industries still need to have an optimized printing infrastructure that enables secure printing from anywhere, anytime and any device.
To address these dynamic working scenarios and enhance employee productivity, UniPrint Infinity allows you to work seamlessly with your existing Citrix environment and provide the security and management of your printing setup.
The idea behind the partnership is to seamlessly enhance workflow and productivity. We believe there is a better way to power the digital enterprise.
---
Interested in finding out more about the value UniPrint brings to Citrix? Check out this free webinar on the benefits of adding UniPrint to Citrix !
---
The value UniPrint Infinity brings to Citrix:
Single Virtual Print Queue
Secure Pull Printing
PDF Print Compression
High Availability
Mobile and Citrix Azure Cloud Printing
Through the Citrix Ready program, we hope to improve customer satisfaction and increase awareness by leveraging our relationship with Citrix.
UniPrint Infinity is Citrix Ready Verified and is fully compatible with any computing environment.  Citrix and UniPrint Infinity solutions are designed to eliminate the challenges head-on.
Citrix Ready Showcase Presentation:
We are excited to be presenting our Healthcare Printing Suite and secure pull printing modules with Citrix Ready at the Citrix Theatre Booth on Monday, August 28th at 1:30pm!
Our managing partner, David Fung, will be showcasing UniPrint's Healthcare Printing Suite and vPad network print appliances.
We will also be showcase some of our customer healthcare success stories and how Citrix and UniPrint Infinity, have improved security and increased IT workflow.
The presentation will highlight:
Challenges our current healthcare customers are facing
How Citrix and UniPrint Infinity solved their IT challenges
The results of deploying our partnered solutions
Join us together with Citrix at VMWorld US in Las Vegas on August 27 – August 31 to learn new skills, hear our expert insights and gain the tools to enable business success!
Try UniPrint InfinityCloud
Whether you are printing at the office or at home, UniPrint InfinityCloud is the cloud printing solution of choice for your organization.