How to Leverage Virtual Printing in Your Healthcare Environment
By UniPrint.net on June 8, 2017
Leverage Virtual Printing
Perhaps no workplace environment is more stressful than healthcare. At its most basic level, healthcare revolves around a never-ending cycle of critical emergencies.
Dealing with this most elemental form of stress is just a part of many clinicians' lives.
While not every clinician must cope with such extremes on a daily basis, all healthcare professionals must face another stark reality: Ongoing changes in the healthcare industry place increasing pressure on workers to accomplish more in less time.
Indeed, all healthcare professionals spend every day in a very demanding, very stressful environment. It is not a place for printing problems!
Healthcare Printing Problem
Accidental label printing can be costly
Clinicians need to locate and retrieve documents
Printing problems squander operating costs
Printer infrastructures put HIPAA compliance at risk
---
Interested in learning more about printing in your healthcare environment? Check out this free whitepaper on how to leverage virtual printing in a healthcare VDI environment!
---
Healthcare Printing Solution
High Availability: ensures 100% printing uptime by eliminating points of failure in the printing infrastructure
Secure Pull Printing: printed documents are released only when users authenticate their credentials, eliminating potential security breaches
Mobile Support: supports printing from all mobile devices and enables authorized release of secure print jobs via the users mobile device
Smart Label Printing: designed to support label makers such as Zebra and Brother, allowing ASII text characters to be sent directly to the correct printer
Rule based printing:
Delegrate printing
EMR/EHR integration and SSO integration
Healthcare Printing Benefits
Improves clinician access, workflow and experience
Enhanced data security and compliance
This infographic illustrates some of the printing related challenges faced by clinicians and healthcare IT personnel as well as printing virtualization solutions provided by UniPrint Infinity's Healthcare Printing Suite.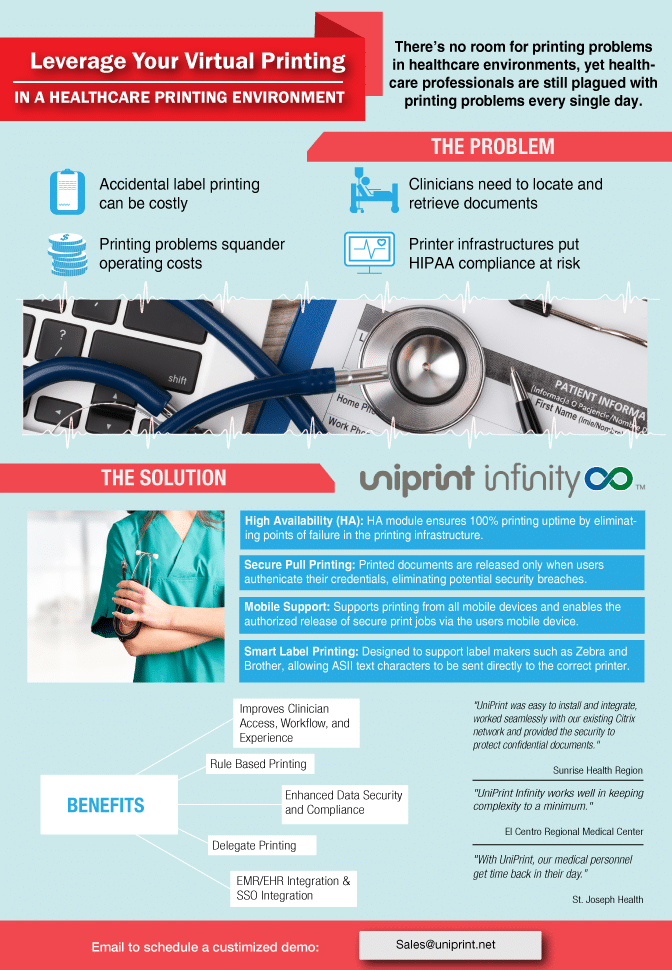 Try UniPrint InfinityCloud
Whether you are printing at the office or at home, UniPrint InfinityCloud is the cloud printing solution of choice for your organization.