Enterprise Printing Problems: Why Printing Is a Pain & How to Make it Easier
By Arron Fu, CTO, UniPrint.net on May 23, 2018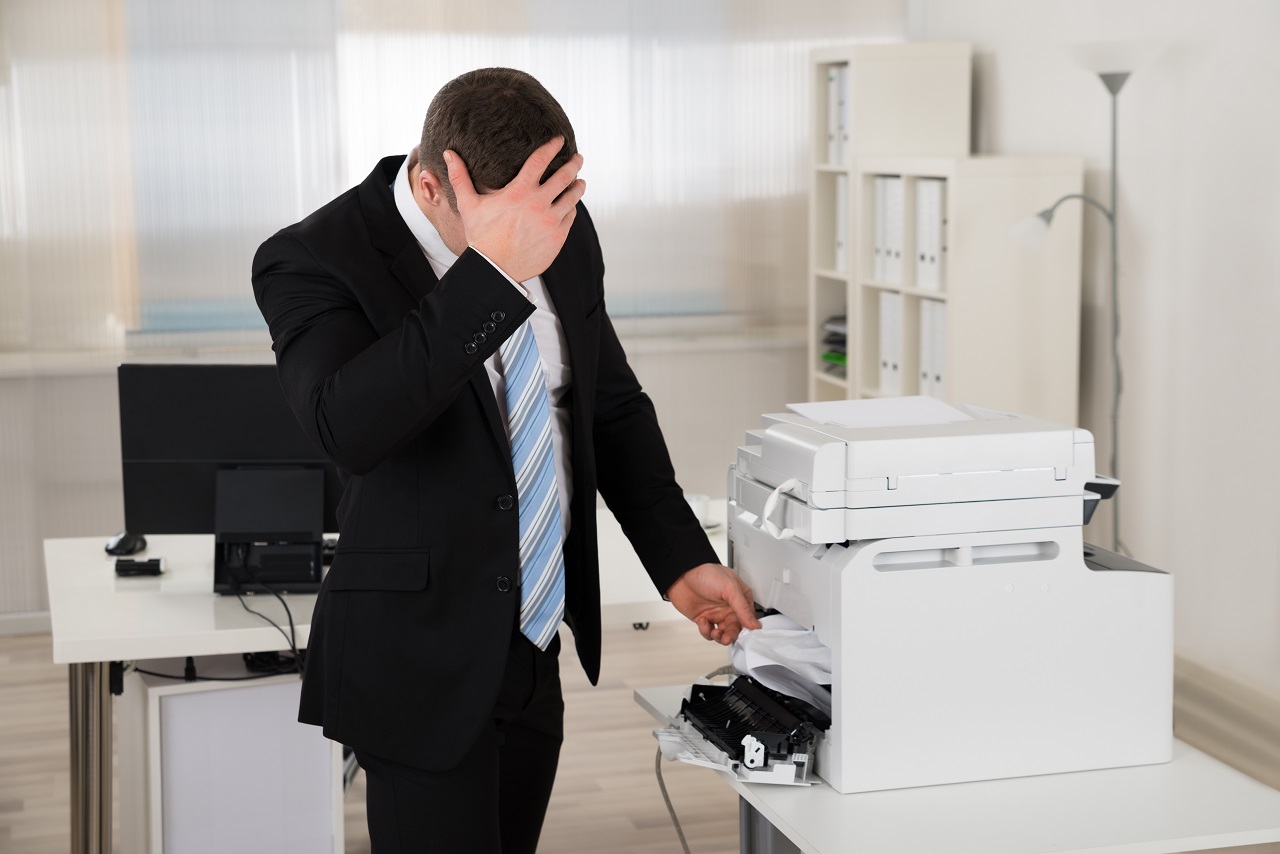 With organizations around the world continuing to print at high volumes, enterprise printing problems are also on the rise!  Though enterprise printing is reducing the print management complexity is increasing because of multiple devices, employee mobility etc.
It consists of documents and files you generate using your company's printers, scanners, copiers, multi-function printers, and other high output technological equipment.
In today's enterprise world, enterprise printing goes beyond employees simply printing from their desktop computers.
As the workforce is rapidly becoming more mobile, employees need to be able to print on the go, and while working remotely from outside the conventional workplace.
Amongst many other issues arising from a conventional enterprise printing setup, companies are faced with a number of enterprise printing problems.
In this blog, we'll look at 10 common enterprise printing problems, or, pain points of printing!
1. Decentralized Print Management
Decentralized print management involves the allocation of print management to each individual enterprise setting, or work site.
This includes the deployment of redundant print servers at each office site, ultimately leading to enterprise printing problems pertaining to increased cost, increased maintenance of print server infrastructure, and lesser centralized control for the IT department over the company's print servers.
Centralizing print management may help to avoid these problems.
2. Printer Security Breaches
In a conventional enterprise print setting, printers are often vulnerable to security breaches and hacks.  Printers configured in organizations by default do not have any added security features.
The network administrator is responsible for re-configuring the entire network, whenever a printer is added, to ensure a secure print infrastructure.
By way of printer security breaches, hackers are able to gain access to print jobs, and subsequently, sensitive corporate information.  Establishing a secure print infrastructure is vital in preventing printer security breaches.
3. Bandwidth Issues
In a typical enterprise printing context, if WAN throughput is reduced or broken up, the employee's ability to print efficiently will be compromised.
In situations where bandwidth is diminished, the employee is destined to suffer from a lack of printing speed.  This tends to deliver a big blow to employee productivity.
Bandwidth issues may be solved by compressing print jobs, or through direct IP printing, routing the employee's print jobs directly to the printer.
4. Help Desk Support
Gartner reports that forty percent of IT support desk calls are printing related.
In the classical enterprise print setting, printers are not configured with universal printer drivers, thus causing clients to constantly request support for printing issues for the individual printers they are having issues with.
Implementing a universal, vendor-neutral driver, may enable smooth streamlining of printing for employees, and subsequently reduce the amount of help desk support required by employees.
5. No User Print Restrictions
Creating printer profiles and restricting employee print abilities is essential for monitoring and ensuring that the firm's printing resources are being used correctly and solely for company purposes.
Users may also want to personalize their own printing and enable specific settings for their print jobs, distinct from those of the general print job mechanism.
This is not possible in regular enterprise print contexts, except through centralized print management by the administrator, who may set policies and restrictions for users as necessary.
---
Check out this free checklist on 30 questions you should ask when inquiring about enterprise printing solutions!
---
6. BYOD
One of the primary enterprise printing problems involves the variety of devices in an firm's network, with every device being made by different manufacturers and having different settings.
With companies becoming increasingly global and opening offices in various locations around the world, employees should be able to print any document, from any device.
Cloud printing may be a viable solution, as it would enable employees to connect to the cloud server with any of their devices, send the print job off, and print from anywhere, to anywhere!
7. Managing Print Servers
With an increased number of print servers for each location along with decentralized print management, managing and maintaining print servers can become a painful enterprise printing problem in enterprise environments.
The cost of dealing with individual print servers also far outweighs the cost of having a centralized print server for all locations, monitored by a single network administrator.
8. End User Printing Problems
Inappropriate driver configuration, incorrect bit selection, and printer driver mismatch with workstation operating system and endpoint device operating system are just some of the enterprise printing problems that end users face in enterprise print settings.
Attempting to troubleshoot and solve these problems can be a tedious task for end users, often leading to unnecessary frustration and time-loss.
Deploying centralized print management solutions could lead to less end user problems in enterprise printing.
9. Hybrid Environments
Many firms host hybrid environments with a combination of Windows, Mac or Linux systems.
This often leads to users having differing print experiences while using the various platforms in the hybrid environment, causing them the hassle of having to remember different printing mechanisms for different platforms.
This ends up interrupting the workflow, and subsequently leads users to wasting time on figuring out how to get documents printed!
10. Multi-Vendor Printers
Deploying printers from a variety of vendors results in confusion in an enterprise print setting.  Printer drivers and configuration of printers must be unique for each vendor.
This results in a variety of mechanisms for print job release, print job routing, and support required from an increased number of vendors within a single enterprise setting.
Using a universal printer driver in an enterprise context can help to centralize the configuration of multi-vendor printers and avoid chaos!
With enterprise printing problems becoming a major issue for companies across the world, centralized cloud-based enterprise printing solutions are a great option for firms looking to improve their workflow.
Central cloud-based enterprise solutions allow organizations to reduce their printing costs, simplify their IT management, and enhance their printing security.
Interested in learning more about enterprise printing solutions, check out this free checklist on 30 questions you should ask when inquiring about enterprise printing solutions!

Try UniPrint InfinityCloud
Whether you are printing at the office or at home, UniPrint InfinityCloud is the cloud printing solution of choice for your organization.